MAY 8: The Clippers have confirmed that they will have extended Covington on a two-year deal, per a team announcement (Twitter link). Terms of the contract were not disclosed.
---
MAY 5: The Clippers and forward Robert Covington have reached a two-year, $24MM contract extension agreement, agent Andrew Morrison of CAA Basketball told ESPN's Adrian Wojnarowski (Twitter link).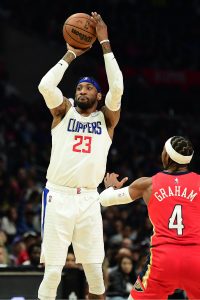 Covington was headed to unrestricted free agency this summer, but has opted to stay put rather than testing the market.
Because he was traded less than six months ago, Covington was ineligible to sign an extension longer than two years or worth more than $27.9MM prior to the start of free agency in July. His new deal fits within both of those limits.
Covington was acquired along with Norman Powell from the Trail Blazers in early February in exchange for Eric Bledsoe, Justise Winslow, rookie Keon Johnson and a 2025 second-round pick.
The Clippers were without superstar Kawhi Leonard all season and went a good chunk of the season without their other star, Paul George. Covington could play a key defensive role with the high-scoring duo back in the lineup.
In 23 games with the Clippers, Covington averaged 10.4 PPG on 50% shooting, including 45% on 3-point attempts. He had a career-high 43 points on a franchise-record 11 3-pointers against the Bucks on April 1.
Covington stated after L.A.'s play-in tournament loss to New Orleans that he was excited about the possibility of re-signing with the Clippers.
"The way that we played tonight when we went small, imagine PG and Kawhi in that lineup," he said. "That's a lot of versatility … Once them guys come back next year, if I'm here, I'm really looking forward to that."
Clippers executive Lawrence Frank recently expressed interest in retaining Covington: "RoCo was very, very good for us. I'm excited to hear that he likes it here. We look forward and we'd like to be able to keep him here."
Covington, 31, has played for Houston, Philadelphia and Minnesota as well as Portland and the Clippers.