5:37pm: The trade is now official, Portland announced in a press release.
---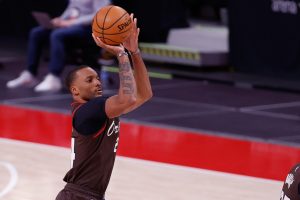 1:29pm: The Trail Blazers and Clippers have agreed to a trade that will send swingman Norman Powell and forward Robert Covington to Los Angeles in exchange for Eric Bledsoe, Justise Winslow, Keon Johnson, and Detroit's 2025 second-round pick, sources tell Adrian Wojnarowski of ESPN (Twitter links).
It's a fascinating move for a Clippers team that is currently missing Kawhi Leonard (ACL) and Paul George (elbow). As we relayed this morning, there's a belief that Leonard probably won't return this season, while George's recovery timeline remains up in the air.
However, there's little reason for the Clippers to throw in the towel on this season. Despite its modest 27-27 record, the club is firmly in the play-in picture, holding the No. 8 seed in the Western Conference. Additionally, Los Angeles doesn't control its own 2022 first-round pick, having sent it to Oklahoma City in the George trade, so there's no incentive to finish in the lottery.
Powell is a talented scorer and shooter who is averaging a career-high 18.7 PPG in 40 games (33.3 MPG) this season, along with a .406 3PT%. His three-point rate has been at 39.9% or higher in each of the last four seasons. Covington, meanwhile, is more limited on offense and has been inconsistent as a shooter this season (.381 FG%, .343 3PT%), but is a versatile defender with plenty of postseason experience.
Powell, a Southern California native who will reunite with former Toronto teammates Leonard and Serge Ibaka, signed a five-year, $90MM contract with Portland in August, so the Clippers will control him for the long term. Covington will be an unrestricted free agent this summer, but L.A. will have his Bird rights, allowing the team to go over the cap to re-sign him.
The Clips already project to be way over the luxury tax line next season, so the club may be reluctant to commit to Covington beyond 2021/22 without moving off another contract, such as Marcus Morris'. That decision won't have to be made for at least a few months though. In the meantime, this deal will increase L.A.'s projected tax bill this season by about $19MM, tweets ESPN's Bobby Marks.
The move will also open up a spot on the Clippers' 15-man roster, potentially allowing them to promote Amir Coffey from his two-way contract. That had been a goal for the team as it approached the deadline, tweets Eric Pincus of Bleacher Report.
It looks at first glance like a modest return for the Blazers, but they'll get a chance to take a flier on a young prospect in Johnson and will benefit financially from the move. According to Marks, the deal takes Portland out of tax territory for this season.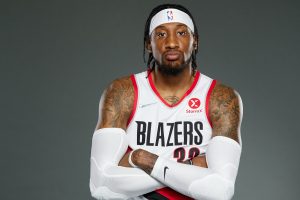 Moving off Powell's long-term money and taking back Bledsoe's pseudo-expiring contract (only $3.9MM of his $19.4MM salary next season is guaranteed) will give the Blazers more financial flexibility going forward and will create more room in the backcourt for emerging guard Anfernee Simons, who is in the midst of a breakout year and will be a restricted free agent in the offseason.
I wouldn't expect Bledsoe to be part of the Blazers' long-term plans, but Winslow could stick around beyond this season. He's under contract for about $4.1MM in 2022/23. Johnson's rookie contract runs through 2024/25.
Having parted ways with one of their leading scorers and one of their top defensive players, the Blazers will see their playoff odds for this season dip a little. The team currently holds a play-in spot, but only has a 1.5-game cushion on the 11th-place Pelicans and has an underwhelming record of 21-31.
Portland would send its 2022 first-rounder to Chicago if the pick lands outside of the lottery. Taking a longer-term view, the front office – led by interim general manager Joe Cronin – may actually prefer to miss the playoffs, since it would allow the team to keep that first-rounder and would give Damian Lillard more time to recover from his abdominal surgery — it's a safe bet Lillard won't rush back from that injury to join a lottery-bound squad for the home stretch.
It's unclear what this deal will mean for CJ McCollum and Jusuf Nurkic, two of Portland's other top trade candidates. The club still has six more days to continue making trades, but it wouldn't be shocking if one or both of those longtime Blazers stays put through the February 10 deadline. McCollum is under contract for two more seasons beyond this one, while Nurkic will be an unrestricted free agent in July.
Portland will create a $6.5MM trade exception in the deal, tweets Marks.