6:06pm: The Timberwolves have officially named Connelly their president of basketball operations, according to a team press release.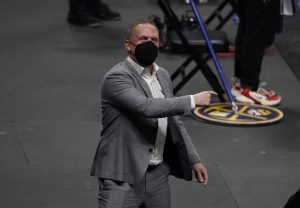 "We are thrilled to announce Tim Connelly as the next leader of our basketball operations department and welcome his family to the Twin Cities," the team said in a statement attributed to ownership. "He brings a wealth of NBA front office experience with various franchises. We look forward to building upon our most recent playoff run and bringing more success to Timberwolves fans for years to come." 
"My family and I couldn't be more excited to join the Timberwolves organization," Connelly said in a statement. "I appreciate Glen, Becky, Marc and Alex's confidence in me to lead this organization and I can't wait to get to work to build an elite franchise that our fans can continue to be proud of." 
---
2:28pm: Nuggets president of basketball operations Tim Connelly will be leaving Denver for Minnesota, according to Adrian Wojnarowski of ESPN (Twitter link), who reports that Connelly and the Timberwolves have agreed to a deal that will make him one of the NBA's highest-paid executives.
Connelly's new contract as the Wolves' president of basketball operations will cover five years and will be worth $40MM, per Shams Charania and Jon Krawczynski of The Athletic. The agreement will also include a kicker for ownership equity, The Athletic's duo adds.
After Timberwolves minority owners Marc Lore and Alex Rodriguez initiated talks with Connelly and presented him with a preliminary offer, the longtime Nuggets executive flew to Minnesota on Saturday and had a four-hour meeting with majority owner Glen Taylor, according to The Athletic (Twitter link). Taylor signed off on the offer, and Connelly subsequently took two full days to deliberate before accepting the job on Monday.
Connelly had been the head of basketball operations in Denver since 2013, following Masai Ujiri's departure for Toronto. He reportedly had a significant impact on the Nuggets' culture, empowering coaches, staffers, and players while creating a positive work environment.
His loyalty to Denver and his comfort level with Nuggets ownership made it a difficult decision to leave for Minnesota, according to Charania and Krawczynski, who say Connelly's new contract more than doubles his previous salary — the equity component also makes the deal substantially more lucrative.
Mike Singer of The Denver Post confirms that financial compensation was a significant factor in Connelly's decision to leave Denver and join a division rival, since he hadn't been eager to depart. According to Wojnarowski (Twitter link), the Nuggets made a bid to retain Connelly that would've significantly increased his salary, but Woj describes the ownership equity in Minnesota as "life-changing money" for the veteran executive.
The Wolves, who dismissed Gersson Rosas shortly before the 2021/22 season began, had been in the market for a big-name executive to fill the president of basketball operations role on a permanent basis. With Lore and Rodriguez expected to take over majority control of the franchise in 2023, they wanted to "change the narrative" around a team that has often been overlooked nationally, according to Charania and Krawczynski.
Executive VP of basketball operations Sachin Gupta, who ran the Timberwolves' front office on an interim basis following Rosas' ouster, remains part of the long-term vision in Minnesota, sources tell The Athletic. While Connelly will likely make some hires of his own, it sounds as if there are no plans to move on from Gupta or head coach Chris Finch, who was previously an assistant coach in Denver.
The Nuggets, meanwhile, are considered likely to promote general manager Calvin Booth to run their front office, Charania reports (via Twitter).
The club has produced a series of successful basketball executives across the last decade, including Ujiri, Connelly, and Arturas Karnisovas, the GM in Denver before leaving to become the Bulls' president of basketball operations. There's a belief within the organization that Booth – a rising talent well-respected around the NBA – is capable of carrying that torch going forward, Charania notes.