Following a head coaching change and a second half surge in 2020/21, the Hawks made it all the way to the Eastern Conference Finals, increasing expectations for the 2021/22 season.
The team struggled to meet those expectations early in the year and ended up nearly replicating the pattern of their previous season. In '20/21, Atlanta followed up a 14-20 start with a 27-11 finish. In '21/22, a 17-25 start preceded a 26-14 finish.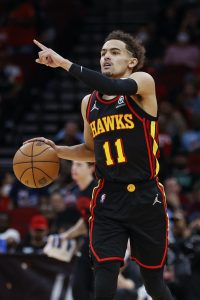 Unfortunately for the Hawks, the Eastern Conference was far more competitive in 2022 than it was a year earlier, and even after winning a pair of play-in games, they ran into a less favorable first-round playoff matchup this time around. The Heat's defense forced Trae Young into perhaps the worst offensive stretch of his NBA career, and Atlanta didn't have enough other weapons to make it a competitive series, falling in five games.
Now, the front office will have to figure out way to upgrade the capped-out roster and raise the Hawks' ceiling going forward.
---
The Hawks' Offseason Plan:
Many NBA owners and executives will only speak in platitudes when discussing potential offseason moves, talking about wanting to re-sign their own free agents and build continuity. Hawks owner Tony Ressler and president of basketball operations Travis Schlenk have taken an entirely different approach so far this spring, telling reporters and radio hosts that changes are coming to this roster and not everyone will be back.
While that doesn't mean the Hawks won't try to re-sign any of their free agents, it seems like a safe bet that the agents for Delon Wright, Lou Williams, Gorgui Dieng, Timothe Luwawu-Cabarrot, and Kevin Knox are prepared to seek out new homes for their clients.
Beyond that, even several players who are under contract for next season shouldn't feel too comfortable that they'll be back in Atlanta. Young is believed to be the only Hawk who is truly untouchable in trade discussions, though the team presumably won't be eager to move players like John Collins, Onyeka Okongwu, or De'Andre Hunter.
Still, that leaves a handful of intriguing trade candidates who could be on the table if the Hawks look to make a play for a star or simply want to make personnel changes. Clint Capela, Bogdan Bogdanovic, and Kevin Huerter are all under contract for multiple seasons and are earning between $14-19MM — none are great bargains, but they're far from albatrosses.
The appeal of Danilo Gallinari's $5MM partial guarantee is negated by the fact that the Hawks would almost certainly have to increase it to make him a useful trade chip, but even if his $21.45MM salary is fully guaranteed, his expiring contract makes him a logical salary-matching piece in a number of hypothetical trades.
So what will the Hawks be looking for in trades? Rather than addressing a specific position, improving the team's defense figures to be the number one priority. That could mean pursuing a rim-protecting center like Rudy Gobert, who would be an upgrade over Capela. It could mean going after a two-way wing like Jerami Grant, who could help slow down the Kevin Durants and Jimmy Butlers of the Eastern Conference. Or it could mean seeking out a guard like Malcolm Brogdon, who can play off the ball and help shield Young from the most challenging defensive assignments.
Even though the Hawks project to be well over the cap, free agency also shouldn't be ruled out as a potential path for a significant upgrade. Atlanta has enough flexibility below the luxury tax line and enough expendable contracts to realistically be a player for top sign-and-trade candidates.
However, some of the most noteworthy free agents who have been linked to Atlanta, including Zach LaVine, wouldn't help much on the defensive end, and many – like LaVine and Deandre Ayton – would come with base year compensation complications due to their modest 2021/22 salaries.
The mid-level exception will be a more realistic tool for the Hawks to land a rotation player on the free agent market. Versatile defenders like Gary Payton II, Bruce Brown, Victor Oladipo, Kyle Anderson, P.J. Tucker, and Nicolas Batum would be realistic targets using the MLE.
Finally, the No. 16 pick in this month's draft would be another asset for the Hawks to use on the trade market if they're not in love with the idea of bringing in a rookie who may not be ready to play rotation minutes right away. If they do keep the pick, they could again prioritize defensive versatility and take a long look at players like Jeremy Sochan and/or Tari Eason, assuming they're still on the board.
Atlanta's best candidate for an offseason extension is Hunter, who has battled injuries in his first three NBA seasons and didn't take a real step forward in 2021/22, but has flashed intriguing upside on both ends of the court when healthy — he put up 35 points and 11 rebounds in Game 5 vs. the Heat. If the Hawks can get him locked in at a team-friendly rate (perhaps a deal similar to Huerter's), they should jump at the opportunity, but otherwise it may be prudent to see what he does in year four and wait for restricted free agency.
---
Salary Cap Situation
Note: Our salary cap figures are based on the league's latest projection ($122MM) for 2022/23.
Guaranteed Salary
Trae Young ($36,600,000) 1
John Collins ($23,500,000)
Clint Capela ($18,706,896)
Bogdan Bogdanovic ($18,000,000)
Kevin Huerter ($14,508,929)
De'Andre Hunter ($9,835,881)
Onyeka Okongwu ($6,395,160)
Danilo Gallinari ($5,000,000) — Partial guarantee. Rest of salary is noted in non-guaranteed section below. 2
Jalen Johnson ($2,792,640)
Chaundee Brown (two-way)
Total: $135,339,506

Player Options
Team Options
Non-Guaranteed Salary
Danilo Gallinari ($16,450,000) 2
Total: $16,450,000
Restricted Free Agents
Kevin Knox ($7,228,448 qualifying offer / $17,537,934 cap hold): Bird rights
Skylar Mays ($2,011,516 qualifying offer / $2,011,516 cap hold): Early Bird rights
Total (cap holds): $19,549,450

Two-Way Free Agents
Draft Picks
No. 16 overall pick ($3,488,760)
No. 44 overall pick (no cap hold)
Total: $3,488,760
Extension-Eligible Players
Note: These are players who are either already eligible for an extension or will become eligible before the 2022/23 season begins.
Bogdan Bogdanovic (veteran)
Danilo Gallinari (veteran)
De'Andre Hunter (rookie scale)
Unrestricted Free Agents / Other Cap Holds
Delon Wright ($16,200,000 cap hold): Bird rights
Lou Williams ($9,500,000 cap hold): Bird rights
Gorgui Dieng ($4,800,000 cap hold): Non-Bird rights
Timothe Luwawu-Cabarrot ($1,811,516 cap hold): Non-Bird rights
Total: $32,311,516
Offseason Cap Outlook

The Hawks will be well over the cap and are approaching luxury tax territory, even if they part ways with Gallinari. If we assume Atlanta waives Gallinari and stretches his partial guarantee across three years, keeps its first-round pick, and lets all its free agents go, the team would be on the hook for about $135.5MM for nine players.
The luxury tax line projects to be at $149MM, so the Hawks could fill out their roster and remain below the tax. But they wouldn't be able to make full use of the mid-level exception without becoming a taxpayer, unless they shed some salary elsewhere.
Cap Exceptions Available
Mid-level exception: $10,349,000 3
Bi-annual exception: $4,050,000 3
Trade exception: $1,782,621
Trade exception: $1,669,178
Footnotes
Young's salary will be worth 30% of the salary cap. If the cap ends up above or below $122MM, this figure will be adjusted upward or downward.
Gallinari's salary will become fully guaranteed after June 29.
These are projected values. If the Hawks approach or cross the tax line, they may not have access to the full mid-level exception and/or bi-annual exception and would instead be limited to the taxpayer mid-level exception ($6,392,000).
---
Salary and cap information from Basketball Insiders and RealGM was used in the creation of this post.