With his offseason trade request unresolved by the time the Sixers' season tipped off last October, the Ben Simmons saga was the dominant storyline looming over the franchise for the first half of 2021/22. The former No. 1 overall pick, citing mental health issues, didn't just want to be traded — he didn't want to ever play a game for Philadelphia again. He chose to sit out indefinitely and give up game checks while he waited for a deal to materialize.
The Sixers, led by a healthy Joel Embiid, held their own in the Eastern Conference playoff race without Simmons. And when they finally found a taker for him in February, they were able to pry former MVP James Harden away from the Nets, securing a more substantial return for their disgruntled All-Star than many league observers anticipated. With Embiid and Harden leading the way, the 76ers looked like legitimate title contenders.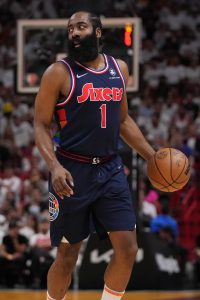 Or that was the plan, at least. In actuality, Harden – perhaps bothered by a lingering hamstring injury – only occasionally looked like his old MVP self after arriving in Philadelphia, posting career-worst shooting averages (.402 FG%, .326 3PT%) in 21 regular season appearances as a Sixer and failing to elevate his game in the playoffs. Additionally, the 76ers' depth, which was already somewhat lacking, took a hit in the Simmons deal when the team surrendered role players Seth Curry and Andre Drummond.
Embiid's MVP-caliber play was enough to get the Sixers past the first round, but their season ended in the Eastern Conference Semifinals when they failed to solve Miami's defense, registering an offensive rating (105.0) that was eight points below their regular season mark.
While the 76ers will be happy to have the Simmons standoff behind them, there are plenty of new questions for the front office to answer this offseason as Philadelphia attempts to get back to the NBA Finals for the first time in over two decades.
---
The Sixers' Offseason Plan:
Harden was still an elite play-maker after joining the Sixers, averaging 10.5 assists per game down the stretch. But his shooting numbers and his relatively modest scoring average (his 21.0 PPG represented his lowest mark since he was a sixth man in Oklahoma City) are somewhat concerning for a 76ers team that will have to decide how significantly to invest in him this offseason.
You could talk yourself into the idea that Harden simply needed some time to adjust to a new team and a new system while dealing with the after-effects of a hamstring injury. And if you believe that, a long-term, maximum-salary contract this offseason is justifiable.
On the other hand, if you feel as if Harden's declining numbers were more about his age (he'll turn 33 in August) and you're skeptical that he'll ever recapture his Houston-era form, the prospect of paying him an average of $50MM+ per year for the next four or five seasons is worrisome, to say the least.
Harden has a $47.4MM player option for 2022/23 and will have to make a formal decision on it by June 29. Philadelphia's ideal scenario might see Harden opting in for next season and giving the team an extra year to determine what his next contract should look like, but I suspect the 10-time All-Star won't pick up that option unless he knows an extension is coming.
If the Sixers are reluctant about putting a lucrative long-term extension on the table, Harden could attempt to force their hand by opting out and becoming a free agent — he'd just need to be confident that at least one rival suitor would be prepared to seriously pursue him, creating leverage and putting pressure on Philadelphia to make a long-term offer.
Given how fond president of basketball operations Daryl Morey is of Harden, I expect the two sides will reach an agreement of some sort. It may not be a fully guaranteed five-year maximum-salary contract, but it feels like Harden has at least one more big payday coming this summer.
Re-signing Harden will ensure the Sixers operate well over the cap this offseason, so their options in free agency will be limited. Assuming Harden opts in or signs a new maximum-salary contract, Philadelphia would have to get creative in order to use the non-taxpayer mid-level exception or to acquire players via sign-and-trade (doing either would hard-cap team salary at around $155MM).
Taking the cap situation into account, the trade market may be Morey's best bet to pursue roster upgrades, though the Sixers aren't exactly loaded with trade assets either. The team has already sent out its 2023, 2025, and 2027 first-round picks and won't want to part with breakout guard Tyrese Maxey.
Inexpensive young players like Matisse Thybulle, Jaden Springer, Shake Milton, Paul Reed, and Isaiah Joe would have value, but the 76ers may view some of those players as long-term keepers rather than trade chips. The club will soon have to make a decision on which category Thybulle, who is extension-eligible this offseason, falls into. Philadelphia has been reluctant to include him in trades to this point, but he hasn't proven he can be a consistent two-way threat — he was a liability on offense in the postseason, barely warranting any attention from opposing defenses.
Of course, to acquire veteran talent, the Sixers will need to start with a more substantial salary-matching piece than those low-priced youngsters. Danny Green's $10MM expiring contract is one option, but it's non-guaranteed, meaning it would count as $0 for outgoing purposes. The team could partially or fully guarantee that $10MM to make it more useful for salary matching, but the larger the guarantee, the less it'll appeal to potential trade partners, since Green may not play at all in 2022/23 as he recovers from a torn ACL.
The Sixers have a more intriguing potential trade candidate in Tobias Harris, who is under contract for nearly $77MM for two more years. He's far more expensive than Green and is on a multiyear deal, but he's also healthy and would be a useful on-court contributor in '22/23.
The 76ers would probably love to turn Harris' salary slot into a more impactful third star, or perhaps into multiple rotation players with more reasonable cap hits, but doing so won't be easy. At $38MM+ per year, Harris is – at best – a neutral value and will likely be viewed by most teams as a negative asset. Getting a solid return back for him would require the Sixers to attach young players and/or draft assets.
Because the Nets opted to defer their acquisition of the Sixers' first-round pick to 2023, Philadelphia does have the No. 23 pick in this year's draft, which could be used either in a trade or to add another affordable young player to the roster. I suspect Morey would prefer to trade the pick for a win-now piece — if the team goes that route, it'll have to wait until after the draft to officially complete the deal, due to the Stepien rule.
Georges Niang and Furkan Korkmaz are two more possible trade candidates, though Korkmaz is coming off a down year and has two guaranteed seasons left on his contract, reducing his appeal to teams seeking flexibility.
Morey is known for his willingness to think outside the box, so it won't be a surprise if the Sixers do some creative roster shuffling this summer and manage to add some solid complementary pieces, including perhaps a replacement for Green on the wing and a reliable backup center behind Embiid. But the team won't have as much flexibility as it would like to make that happen.
---
Salary Cap Situation
Note: Our salary cap figures are based on the league's latest projection ($122MM) for 2022/23.
Guaranteed Salary
Tobias Harris ($37,633,050)
Joel Embiid ($33,616,770)
Furkan Korkmaz ($5,000,000)
Matisse Thybulle ($4,379,527)
Georges Niang ($3,465,000)
Tyrese Maxey ($2,726,880)
Jaden Springer ($2,125,200)
Charles Bassey ($74,742) — Partial guarantee. Non-guaranteed portion noted below.
Charlie Brown Jr. (two-way)
Total: $89,021,169

Player Options
Team Options
Non-Guaranteed Salary
Danny Green ($10,000,000) 1
Isaiah Joe ($1,782,621) 2
Paul Reed ($1,782,621)
Charles Bassey ($1,488,776)
Total: $15,054,018
Restricted Free Agents
Two-Way Free Agents
Draft Picks
No. 23 overall pick ($2,553,960)
Total: $2,553,960
Extension-Eligible Players
Note: These are players who are either already eligible for an extension or will become eligible before the 2022/23 season begins.
James Harden (veteran) 3
Tobias Harris (veteran)
Isaiah Joe (veteran)
Shake Milton (veteran) 3
Matisse Thybulle (rookie scale)
Unrestricted Free Agents / Other Cap Holds
Mike Scott ($9,510,165 cap hold): Bird rights 4
DeAndre Jordan ($1,811,516 cap hold): Non-Bird rights
Paul Millsap ($1,811,516 cap hold): Non-Bird rights
Kyle O'Quinn ($1,811,516 cap hold): Non-Bird rights 4
Total: $14,944,713
Offseason Cap Outlook

Letting Harden walk would actually open up a not-insignificant chunk of cap space for the Sixers, but it's hard to imagine a scenario where that happens. If Harden simply opts in, all that cap room goes away and Philadelphia will have over $136MM committed to just eight players, putting team salary well on its way to approaching or surpassing the projected luxury tax threshold of $149MM.
Cap Exceptions Available
Mid-level exception: $10,349,000 5
Bi-annual exception: $4,050,000 5
Trade exception: $1,669,178
Footnotes
Green's salary will become fully guaranteed after July 1.
Joe's salary will become fully guaranteed after the first day of the regular season.
Harden and Milton would only be eligible if their options are exercised.
The cap holds for Scott and O'Quinn remain on the Sixers' books from prior seasons because they haven't been renounced. They can't be used in a sign-and-trade deal.
These are projected values. If the Sixers approach or cross the tax line, they may not have access to the full mid-level exception and/or bi-annual exception and would instead be limited to the taxpayer mid-level exception ($6,392,000).
---
Salary and cap information from Basketball Insiders and RealGM was used in the creation of this post.