After winning their first title in franchise history three years ago, the Raptors lost Kawhi Leonard and Danny Green in 2019, Serge Ibaka and Marc Gasol in 2020, and Kyle Lowry in 2021. Somehow though, with the exception of an unusual 2020/21 season spent in Tampa, more than 1,000 miles from their home city, the Raptors just keep on winning, defying expectations in '21/22 by becoming a top-five seed in the East.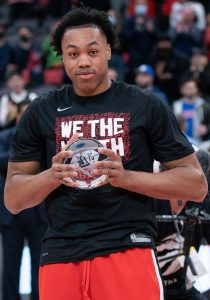 The rapid emergence of eventual Rookie of the Year Scottie Barnes (Toronto's reward for that dismal '20/21 season spent in Florida) played a large part in the Raps' resurgence this past year. The front office was questioned for selecting Barnes at No. 4 in last year's draft over Jalen Suggs, who was widely considered one of the top four players in the class. But Barnes' first-year performance as a two-way weapon vindicated the controversial decision made by president of basketball operations Masai Ujiri and general manager Bobby Webster.
The remaining holdovers from the 2019 title team – Fred VanVleet, Pascal Siakam, OG Anunoby, and Chris Boucher – played significant roles in Toronto's success too. VanVleet made an All-Star team, Siakam earned an All-NBA spot, and Anunoby established a new career high with 17.4 points per game.
The Raptors had a hard time slowing down Joel Embiid and the Sixers in the first round of the playoffs and ultimately fell in six games. But given that Toronto was only viewed as a borderline play-in team entering training camp, the year qualified as a major success even without a playoff series win.
---
The Raptors' Offseason Plan:
With VanVleet, Siakam, Anunoby, Barnes, Gary Trent Jr., and emerging big man Precious Achiuwa all under contract for next season, it's possible the Raptors won't make any major changes to their roster. It seems safe to assume that a number of those players – particularly Anunoby, Barnes, and Achiuwa – have yet to reach their ceilings, so Toronto can bet on internal improvement and continue assessing the long-term fit of its core.
Of course, the fact that all those players are on reasonable contracts would make any of them valuable trade chips. And it's possible the Raptors would have interest in moving one of their three starting forwards to acquire an impact center, though I think that possibility has perhaps been overstated.
Toronto had success in 2021/22 with a versatile group of rangy defenders who showed the ability to switch onto almost any offensive player and hold their own. Adding a more traditional center – such as Rudy Gobert – to that mix would change the way the Raptors play defense and negate one of the team's strengths — and it would come at a significant trade cost.
The Raptors will also have to be wary of bringing in a center who doesn't have the ability to stretch the floor. Siakam and Barnes will launch at least a couple three-pointers per game to keep defenses honest, but they're hardly elite outside shooters. Using Anunoby – whose name has popped up in trade rumors – as the centerpiece of a trade for a non-shooting center would create some serious spacing issues.
Ujiri has shown in the past that he's not hesitant to pull the trigger on the right trade opportunity, having completed major deals for players like Gasol, Ibaka, and – of course – Leonard. But the Raptors are ahead of schedule in their retooling process and won't feel any desperation to shake up this roster for the sake of it. If they make a significant trade, it'll be because it's too good to pass up.
If the Raptors keep their core intact, the team's offseason decisions will revolve around free agent signings and possible contract extensions.
Two members of the Raptors' playoff rotation – Boucher and Thaddeus Young – will be unrestricted free agents this summer, and I'd expect the club to have interest in re-signing both players, assuming the price is right. Team salary isn't yet approaching luxury tax territory, so as long as Boucher and Young aren't getting offers that exceed the full mid-level exception (about $10MM), Toronto could comfortably retain both.
The question will be how many years the Raptors are willing to offer, since the roster could get more expensive in the near future when guys like VanVleet and Trent, among others, are up for new deals. I wouldn't expect Toronto to offer more than two guaranteed years to Boucher, Young, or any outside free agent targets.
The Raptors will be under more pressure to use their full mid-level exception if they only re-sign one of Boucher and Young, but they should have the flexibility to use it even if both players return. It will be interesting to see which direction the team goes with that MLE.
Last year, most of it went to a center (Khem Birch), who had an up-and-down, injury-plagued 2021/22 season — would the Raptors attempt to address that position again with a mid-level free agent, or do they expect more from Birch going forward? Would they instead pursue a shooter, or a backup point guard?
Sharpshooter Malik Monk would be a fascinating target, though it's unclear whether he could meet the sky-high expectations Nick Nurse has for his players on the defensive end. Veterans like Kyle Anderson and Delon Wright can handle the ball and would be nice fits defensively — they've also improved their three-point numbers in recent years. Toronto should have some options.
It's worth noting that while the Raptors don't have their first-round pick this year, they did acquire Detroit's second-rounder, at No. 33 overall. High second-round picks often get three- or four-year commitments, so Toronto could use a small portion of its mid-level exception to sign that player.
VanVleet and Siakam are both eligible for extensions this offseason, and I'd expect the Raptors to prioritize VanVleet, who only has one guaranteed year left on his current deal before facing a player option decision in 2023.
While VanVleet's struggles to make an impact in the first round of the playoffs against Philadelphia were a little concerning, he was battling multiple injuries and has proved his postseason bona fides in past series. Toronto should feel fine about offering him a deal that gives him at least a modest raise on his current $21MM-per-year rate. Siakam still has two guaranteed seasons left, so there's no rush to lock him up quite yet.
---
Salary Cap Situation
Note: Our salary cap figures are based on the league's latest projection ($122MM) for 2022/23.
Guaranteed Salary
Pascal Siakam ($35,448,672)
Fred VanVleet ($21,250,000)
Gary Trent Jr. ($17,505,000)
OG Anunoby ($17,357,143)
Scottie Barnes ($7,644,600)
Khem Birch ($6,667,500)
Precious Achiuwa ($2,840,160)
Malachi Flynn ($2,145,720)
Dalano Banton ($150,000) — Partial guarantee. Non-guaranteed portion noted below. 1
Ishmail Wainwright ($125,000) — Waived.
Armoni Brooks ($50,000) — Partial guarantee. Non-guaranteed portion noted below. 2
Total: $111,183,795

Player Options
Team Options
Non-Guaranteed Salary
Armoni Brooks ($1,702,638) 2
Dalano Banton ($1,413,518) 1
Total: $3,116,156
Restricted Free Agents
Two-Way Free Agents
Draft Picks
No. 33 overall pick (no cap hold)
Extension-Eligible Players
Note: These are players who are either already eligible for an extension or will become eligible before the 2022/23 season begins.
Pascal Siakam (veteran)
Fred VanVleet (veteran)
Unrestricted Free Agents / Other Cap Holds
Thaddeus Young ($21,285,000 cap hold): Bird rights
Chris Boucher ($13,338,000 cap hold): Bird rights
Lucas Nogueira ($8,841,915 cap hold): Bird rights 3
Isaac Bonga ($1,811,516 cap hold): Non-Bird rights
Jeremy Lin ($1,811,516 cap hold): Non-Bird rights 3
Jodie Meeks ($1,811,516 cap hold): Non-Bird rights 3
Jason Thompson ($1,811,516 cap hold): Non-Bird rights 3
Yuta Watanabe ($1,811,516 cap hold): Early Bird rights
Total: $52,522,495
Offseason Cap Outlook

If we assume the Raptors retain Banton, they'd have about $112.5MM in guaranteed money committed to nine players. That puts them in position to operate over the projected cap ($122MM), especially if they intend to bring back at least one of Boucher or Young. And unless one of those players is a lot more expensive than we expect, Toronto should also have plenty of breathing room below the projected $149MM tax line, opening the door to use some or all of the non-taxpayer mid-level exception.
Cap Exceptions Available
Mid-level exception: $10,349,000 4
Bi-annual exception: $4,050,000 4
Trade exception: $5,250,000
Trade exception: $3,070,052
Footnotes
Banton's partial guarantee will increase to $300K after July 4 and his full salary will become guaranteed after the first day of the regular season.
Brooks' partial guarantee will increase to $250K after August 1 and his full salary will become guaranteed after the first day of the regular season.
The cap holds for De Colo, Nogueira, Lin, Meeks, and Thompson remain on the Raptors' books from prior seasons because they haven't been renounced. They can't be used in a sign-and-trade deal.
These are projected values.
---
Salary and cap information from Basketball Insiders and RealGM was used in the creation of this post.