JULY 6: The Clippers have officially re-signed Batum, the team announced today in a press release.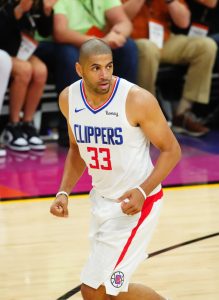 "Nico is a selfless vet and a winning player whose intelligence, versatility and skill have lifted our team for the past two years," president of basketball operations Lawrence Frank said in a statement. "We wanted to keep building with him and are honored he wanted the same."
---
JUNE 30: Veteran Clippers forward Nicolas Batum has agreed to return to Los Angeles on a two-season, $22MM contract, according to Chris Haynes of Yahoo Sports.
After being selected with the No. 25 pick in 2008, Batum first established himself as a switchable, reliable 3-and-D wing with the Trail Blazers. After becoming a full-time starter on multiple Portland playoff teams, Batum was eventually traded to the Hornets in 2015.
Following a lackluster run with the Hornets on a lucrative five-year, $120MM deal, Batum was waived by Charlotte ahead of the 2020/21 season, which would have been the final year on his deal. Batum joined the Clippers on a minimum contract in 2020, and promptly rebuilt his NBA value as a solid forward on both ends of the floor, capable of playing either small or power forward.
During the 2021/22 season, Batum averaged 8.3 PPG, 4.3 RPG, 1.7 APG, 1.0 SPG and 0.7 BPG for the Clippers across 59 games, including 54 starts. He posted a shooting line of .463/.400/.658. Batum declined a $3.3MM player option with L.A. ahead of the start of free agency today.
Los Angeles is gearing up for an anticipated deep playoff run, with All-Star wings Kawhi Leonard and Paul George both projected to be healthy during the 2022/23 season. In addition to bringing back 33-year-old Batum, the Clippers also are set to add 31-year-old former five-time All-Star John Wall to a team-friendly contract as they shore up veteran depth.
The Clippers are re-signing Batum using the Early Bird exception, which requires the deal to be for at least two years, with no options.