As expected, the Hornets have waived veteran forward Nicolas Batum, reports Shams Charania of The Athletic (Twitter link). The team has officially confirmed the move in a press release.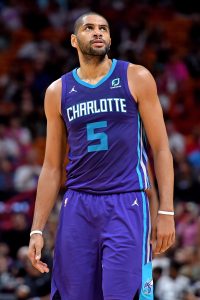 Batum was excised from the Hornets' rotation this past season, appearing in just 22 games (23.0 MPG) and playing poorly in his limited time, with 3.6 PPG, 4.5 RPG, and 3.0 APG on .346/.286/.900 shooting. However, he's only entering his age-32 season and should look more appealing on a minimum-salary deal than he did on his five-year, $120MM contract.
The Clippers are willing to bet on a bounce-back season from Batum, with Charania reporting (via Twitter) that the forward intends to sign with L.A. once he clears waivers. The Clips only have 12 players on fully guaranteed salaries and could use some additional depth on the wing, so Batum should be a good fit on the roster.
According to Charania (via Twitter), the Clippers were one of multiple contending teams with interest in Batum once Charlotte made it clear he would be cut. Golden State, Toronto, Utah, and Milwaukee were previously cited as potential suitors.
A report back on November 21 first indicated that Charlotte planned to waive Batum and stretch his $27MM+ salary across three seasons, opening up the cap room necessary for the team to sign Gordon Hayward to his new four-year, $120MM contract.
Once the Celtics and Hornets began discussing the possibility of turning Charlotte's Hayward acquisition into a sign-and-trade, there was some uncertainty about whether releasing Batum would be necessary. The Hornets were believed to be exploring the possibility of sending him to Boston or – more likely – another team as part of a Hayward deal.
Although that won't happen, that doesn't mean that Hayward can't still be acquired via sign-and-trade. We continue to await word on that front, but a sign-and-trade agreement would benefit the Celtics, who could generate a massive traded player exception in such a deal.
Now that Batum has been waived, it will make little difference from the Hornets' perspective whether they sign Hayward outright or acquire him via sign-and-trade. If they can extract a sweetener (ie. a second-round pick or two) from Boston, it would make sense for Charlotte to accommodate the C's and turn it into a sign-and-trade. We should find out soon whether or not that's in the cards.
[UPDATE: Hornets Add Gordon Hayward Via Sign-And-Trade With Celtics]
Photo courtesy of USA Today Sports Images.