JULY 6: The Clippers have officially re-signed Coffey, according to NBA.com's transactions log.
---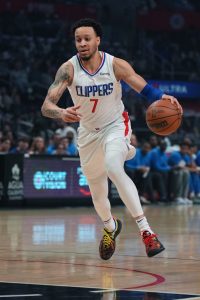 JUNE 30: The Clippers will re-sign 25-year-old restricted free agent shooting guard Amir Coffey to a three-year, $11MM contract, agents Bill Duffy and Marlon Harrison have revealed to Adrian Wojnarowski of ESPN (via Twitter).
After going undrafted out of Minnesota in 2019, Coffey joined L.A. on a two-way contract. He played sparingly at the NBA level during the 2019/20 and 2020/21 seasons, averaging 3.2 PPG across 62 total contests.
Coffey initially returned to the Clippers on a two-way deal in 2021. In five games with the Clippers' NBAGL club, the Agua Caliente Clippers, Coffey averaged 19.6 PPG, 5.8 RPG, 2.8 APG and 1.2 SPG. He was ultimately promoted to the club's 15-man roster in March.
In 69 games with Los Angeles during the 2021/22 season, including 30 starts, Coffey averaged 9.0 PPG, 2.9 RPG, 1.8 APG and 0.6 SPG in 22.7 MPG. He posted shooting splits of .453/.378/.863. Presumably, the 25-year-old's minutes and touches may be reduced with the full-time returns of All-Star wings Kawhi Leonard and Paul George next season.
Los Angeles has been making sure it re-signs several key role players already during free agency, anticipating a deep postseason run in 2022/23. The team will reportedly extend center Ivica Zubac on a three-year, $33MM deal, and also is set to bring back forward Nicolas Batum on a two-season, $22MM agreement.