3:24pm: Atkinson will become the Warriors' new top assistant under Steve Kerr, Wojnarowski writes in a full story. He will replace Mike Brown, who is leaving to become the Kings' head coach.
Wojnarowski states that after Atkinson accepted the Hornets' job last week, he had "further conversations" with the team that made him reconsider. Sources tell Woj that Atkinson never signed a contract with Charlotte. He informed both clubs of his decision this afternoon.
---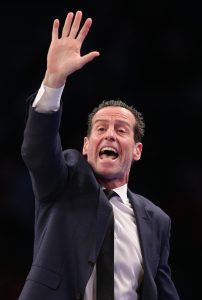 2:39pm: Kenny Atkinson has decided to remain an assistant with the Warriors rather than becoming the Hornets' next head coach, tweets ESPN's Adrian Wojnarowski.
Charlotte made the decision to hire Atkinson eight days ago, with both sides agreeing in principle on a four-year contract. Former Trail Blazers head coach Terry Stotts and former Rockets head coach Mike D'Antoni were the other finalists for the job. Stotts is also among the reported candidates for the head coaching vacancy in Utah.
Atkinson, 55, just completed his first season as an assistant coach with Golden State, winning an NBA title for the first time in his career. He spent last season as an assistant on Tyronn Lue's staff with the Clippers and has been as assistant with the Knicks and Hawks as well. His only head coaching experience came with the Nets from 2016-20.
Recent reports cited positive reaction for the Hornets' decision to hire Atkinson and noted that he's well-respected around the league.
Charlotte is left in the difficult position of being without a head coach five days before the draft and 12 days before the start of free agency. It's not clear yet whether owner Michael Jordan intends to shift to one of his other finalists or start the coaching search over.