[UPDATE: Kenny Atkinson Won't Take Job With Hornets]
---
The Hornets plan to hire Kenny Atkinson to be their new head coach, sources tell Shams Charania of The Athletic (Twitter links).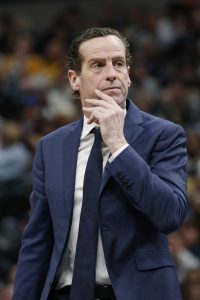 The two sides have reached an agreement in principle, reports Rod Boone of The Charlotte Observer. Atkinson will receive a four-year contract, tweets ESPN's Adrian Wojnarowski.
As Charania relays, Atkinson met with owner Michael Jordan and other high-level Hornets officials for his third interview on Wednesday. Charania and Sam Amick of The Athletic previously pegged Atkinson as the frontrunner for the job, with Boone later stating that he could be hired by the end of this week.
Atkinson, 55, is currently an assistant coach with the Warriors and spent last season as an assistant with the Clippers. He's most well-known for being the head coach of the Nets from 2016-20, leading an impressive turnaround during his four years at the helm.
Although Atkinson's record 118-190 record with the Nets seems pretty poor, the team went just 20-62 in 2016/17, his first year, and made the playoffs two years later with a 42-40 record. He played a key role in developing players like Joe Harris, Spencer Dinwiddie, Caris LeVert, Jarrett Allen, and D'Angelo Russell, all of whom improved tremendously during his tenure.
The Hornets reportedly believe they're on the verge of being a playoff team and wanted a head coach who will help the club take the next step. Atkinson is known for his player development skills and defensive acumen, so he could be a good fit for key players like LaMelo Ball and Miles Bridges.
Boone writes that Atkinson's first task will be creating his coaching staff and deciding whether or not he wants to retain any of James Borrego's former assistants, who have all been working and awaiting their fates until a new coach was hired. Borrego was fired after Charlotte was blown out in the first game of the play-in tournament for the second consecutive year.
The Hornets control the Nos. 13, 15, and 45 picks in the 2022 NBA draft and have a number of mid-size contracts that could be dangled in trades, so it will be interesting to see how GM Mitch Kupchak reshapes the roster this summer with Atkinson as head coach. Bridges is also a restricted free agent and figures to receive a large contract, so balancing his large salary increase with the remainder of the roster is another thing to keep an eye on.
With Atkinson set to depart Golden State, Warriors head coach Steve Kerr will be losing two key assistants this spring, as Mike Brown was hired to be the new head coach of the Kings last month.
Former Rockets head coach Mike D'Antoni was the other finalist for the Hornets' vacancy, and while former Blazers coach Terry Stotts was reportedly in the running, it's unclear if he ever got a third interview to meet with Jordan like Atkinson and D'Antoni did.