JULY 9: McGee's contract is official, the Mavericks confirmed (via Twitter).
---
JUNE 30: The Mavericks have been adding some size this offseason. After trading for big man Christian Wood earlier this month, Dallas is set to sign journeyman veteran center JaVale McGee to a three-year contract, according to Chris Haynes of Yahoo Sports.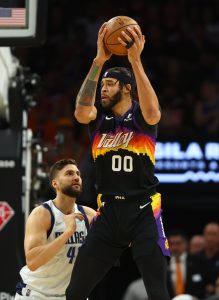 Shams Charania of The Athletic tweets that the deal is a three-year, $20.1MM agreement, and the final season is a player option.
That figure suggests the Mavs are using their full taxpayer mid-level exception on McGee, but Marc Stein tweets that the team intends to preserve some of that MLE to sign second-round pick Jaden Hardy to a three-year contract. If that's the case, McGee's three-year deal will be worth about $17.2MM, tweets Yossi Gozlan of HoopsHype.
McGee expects to start at the five for Dallas, per Tim MacMahon of ESPN (Twitter link). MacMahon adds that this signing will reunite McGee with former Lakers comrades Jason Kidd, now the Mavericks' head coach, and Dallas assistant coach Jared Dudley. Kidd served as an assistant coach under Frank Vogel and Dudley was a reserve on a title-winning 2020 Los Angeles team along with McGee.
The seven-footer, a three-time NBA champion, raved about his on-court fit with Mavericks All-Star guard Luka Doncic. "I saw some opportunities out there where I was like, 'Oh yeah, if they had a rolling big, they could dominate in a different aspect,'" McGee said.
After being selected with the No. 18 pick by the Wizards out of Nevada in 2008, the seven-footer flashed plenty of promise with Washington as a hyper-athletic, rim-rolling center, but was ultimately dealt to the Nuggets in 2012. He was re-signed to a pricey extension in Denver, only to be dealt again, this time to the Sixers, in 2015.
McGee then enjoyed an initial one-year stint with Dallas during the 2015/16 season. He only really blossomed as one of the best low-usage centers in the league after signing with the Warriors in 2017, winning two titles with a star-studded Golden State franchise. McGee then joined the Lakers in 2018, eventually winning his third championship in 2020. The Lakers sent him to the Cavaliers during the following offseason, before he was dealt to the Nuggets and once again became a valuable reserve on a playoff contender. He spent last-season with yet another starry postseason club, the 64-win Suns, on a one-year, $5MM deal.
In 74 games with Phoenix, McGee averaged 9.2 PPG, 6.7 RPG and 1.1 BPG across just 15.8 MPG. The 34-year-old connected on an excellent 62.9% of his 6.2 field goals per night.