JUNE 19: Green has officially picked up his player option for 2022/23, tweets Tim Bontemps of ESPN.
---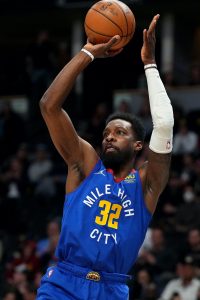 JUNE 17: Nuggets forward Jeff Green is expected to exercise his $4.5MM player option for next season, a league source tells Mike Singer of The Denver Post.
The deadline for Green to pick up the option is June 20, Singer notes.
In 75 regular season games with Denver, including 63 starts (24.7 MPG), Green averaged 10.3 PPG and 3.1 RPG on .524/.315/.833 shooting. He struggled in the team's first-round loss to Golden State, averaging 3.8 PPG and 3.6 RPG on .353/.375/.800 shooting in five games (22.6 MPG), with his shot attempts cut in half.
However, he has had postseason success in the past, including previous stops with Boston, Houston and Cleveland, reaching the NBA Finals with the Cavs in 2017/18.
Green, who turns 36 in August, is a well-traveled veteran (Denver is his 11th team) and clearly enjoyed his first season with the Nuggets, since he's picking up his option. He's still quite athletic despite his advancing age, and is a heady cutter who excels in the open court.
After Green exercises the option, he and fellow forwards Aaron Gordon and Zeke Nnaji will all be under contract for 2022/23. Michael Porter Jr. (back surgery) is expected to return to action as well, and he's signed to a long-term, maximum-salary deal.
As Singer writes, with a pretty set forward rotation, the Nuggets are expected to focus on improving the team's perimeter depth in the 2022 draft. Denver controls the Nos. 21 and 30 picks after agreeing to trade JaMychal Green to the Thunder. Singer says "it's likely" that GM Calvin Booth knew of Jeff Green's intention to exercise the option prior to the trade.
Nuggets are reportedly interested in packaging their picks in order to move up to the middle of the first round.
In case you missed it, Green was ranked No. 45 on our list of top 50 free agents for 2022, and if you enter our free agent prediction contest, you'll get a freebie as long as you pick the Nuggets as Green's destination.