Rockets guard John Wall has exercised his player option for the 2022/23 season, with agent Rich Paul informing the team of the decision, per Shams Charania of The Athletic (Twitter link).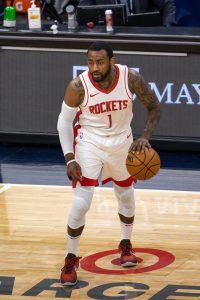 The move had long been expected, since the option will pay Wall a salary of $47,366,760 next season after he didn't play a single game for Houston in 2021/22. There was no chance he'd come close to matching that figure if he opted out to become an unrestricted free agent.
Although Wall is now officially under contract for 2022/23, it's unlikely that he'll spend another full season under contract with the Rockets and away from the team. Charania reports (via Twitter) that the two sides are expected to make an effort to resolve Wall's situation in the "near future."
The Rockets would love to find a trade partner willing to acquire Wall, but his exorbitant cap hit will make it virtually impossible without attaching an asset or two, which the rebuilding club has no interest in doing.
There were some rumors leading up to the 2022 trade deadline about a possible swap of Wall and Russell Westbrook, but Houston reportedly sought a first-round pick in those talks, which the Lakers weren't willing to surrender. I wouldn't count on L.A.'s stance changing this summer.
Assuming the Rockets can't find a taker for Wall, the two sides are expected to explore buyout talks. As Michael Scotto of HoopsHype reported in April, the 31-year-old would like to have a role on a winning team, if possible.
Wall last suited up for the Rockets in 2020/21, when he averaged 20.6 points, 6.9 assists, and 3.2 rebounds in 40 games (32.2 MPG). His shooting line that season was just .404/.317/.749.