JUNE 24: The trade is now official, the Mavericks announced in the early hours of Friday morning. Wood has officially landed in Dallas in exchange for Marjanovic, Brown, Burke, Chriss, and the draft rights to No. 26 overall pick Wendell Moore. Houston is flipping Moore to Minnesota in a separate deal.
---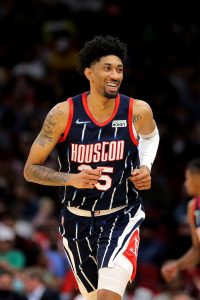 JUNE 15: The Rockets are trading Christian Wood to the Mavericks in exchange for the No. 26 overall pick of the 2022 draft, Boban Marjanovic, Sterling Brown, Trey Burke and Marquese Chriss, sources tell Shams Charania of The Athletic (Twitter link).
All five players are on expiring contracts in 2022/23, with the four Mavs players being sent out for salary-matching purposes. Wood will earn $14.3MM next season.
As ESPN's Bobby Marks tweets, the trade can't be officially completed until draft night, which is June 23, because the Mavs owe a protected first-round pick to the Knicks in 2023. Six months after the trade is completed, Wood will be eligible to sign a contract extension worth up to $77MM over four years, says Marks.
Burke holds a $3.3MM player option for '22/23 and will need to exercise the option in order for the trade to work, Marks notes (via Twitter), adding that rosters expanding to 20 in the offseason will allow the Rockets to take back four players in exchange for one. Burke will receive a trade bonus of $247,500 from Dallas as part of the deal, Marks relays in another tweet.
Jake Fischer of Bleacher Report indicated on Tuesday that the Mavericks were looking to trade their only draft pick, and they found a match in the rebuilding Rockets, who now control three first-round picks: Nos. 3, 17 and 26. The Rockets have multiple options to explore ahead of the draft. If they want to package Nos. 17 and 26 to move up a bit, they likely could.
The 26-year-old Wood is a very solid return for Dallas, even if he comes with some character concerns. The talented big man averaged 19.1 points, 9.9 rebounds, 2.1 assists and 1.0 block in 109 games for Houston the past two seasons, posting a shooting line of .507/.384/.626.
The move definitely comes with risks for the Mavs, because Wood is a subpar defensive player and can be quite inconsistent, especially from an effort standpoint, from game-to-game. However, he's on an expiring contract, which limits the risk, and is theoretically in a good situation with star Luka Doncic.
Mavs GM Nico Harrison said the team would be looking to acquire a quality big man who could provide rebounding and rim protection after the team lost in the Western Conference Finals. Wood fulfills the first criteria — he's a good rebounder — but falls a bit short on the second, as he isn't much of a deterrent at the basket.
According to Tim MacMahon of ESPN (Twitter link), the Rockets wanted to move Wood in order to create more playing time for Alperen Sengun, who was a rookie this past season, and the No. 3 pick, who will likely be another big man. They'll get a look at some veterans on expiring deals, but obviously the main appeal was the No. 26 pick and no long-term salary.
Chriss, who will make $2.19MM next season, underwent knee surgery on Wednesday and will be sidelined while rehabbing for the next couple months, sources tell Chris Haynes of Yahoo Sports (Twitter link).