JULY 7: The Heat have officially re-signed Oladipo, the team announced today in a press release. As we relayed earlier today, his new two-year deal is believed to be worth in the neighborhood of $18MM.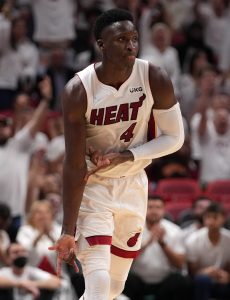 "Victor showed his work ethic and determination to come back and help us win games at the end of the regular season and through the playoffs," Heat president Pat Riley said in a statement. "We are delighted to have him back in a HEAT uniform."
---
JULY 6: Victor Oladipo remains on track to officially re-sign with the Heat, but he and the team have agreed to adjust the terms of the contract they negotiated last week, according to reports from Ira Winderman of The South Florida Sun Sentinel and Anthony Chiang of The Miami Herald (Twitter links).
Instead of signing a one-year, $11MM contract, Oladipo will receive a two-year deal that includes a second-year player option, per Winderman and Chiang.
While the exact financial terms are unclear, Oladipo's salary in 2022/23 will be a little lower than $11MM in order to help the Heat remain below the luxury tax line (approximately $150MM) and the tax apron ($157MM).
Miami doesn't yet have to worry about dealing with a hard cap, since the team hasn't acquired a player via sign-and-trade, used its bi-annual exception, or used more than the taxpayer portion of its mid-level exception. But if the Heat want to do any of those three things, it would impose a hard cap of about $157MM on team salary, limiting their flexibility. A smaller first-year salary for Oladipo will give Miami more breathing room in that scenario, and may also help team ownership avoid a tax bill.
Oladipo will still have the right to veto a trade during the 2022/23 season. A player who re-signs with his former team on a one-year contract or a two-year deal with a second-year player option is afforded that privilege.