JULY 7: The signing is official, according to a team press release.
---
JUNE 30: The Magic are set to bring back big man Mohamed Bamba on a two-year, $21MM contract, per Chris Haynes of Yahoo Sports.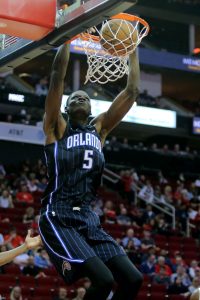 By opting to not tender a qualifying offer to Bamba, Orlando made him an unrestricted free agent. Haynes notes that several rival clubs were considering Bamba, who enjoyed a breakout fourth season with the Magic. He started in 69 of 71 available contests for Orlando, having previously started in six games across his first three NBA seasons.
Suiting up in a jumbo-sized frontcourt alongside fellow 2018 lottery draft pick Wendell Carter Jr., Bamba averaged career highs of 10.6 PPG, 8.1 RPG, 1.7 BPG and 1.2 APG across 25.7 MPG. He posted a tantalizing .480/.381/.781 slash line.
During the 2021/22 season, Bamba at last consistently exhibited the promise that convinced Orlando to draft him with the sixth pick out of Texas. He became one of the league's better rim protectors and emerged as a reliable long-range option on volume (38.1% on 4.0 attempts a night).
Bamba's future with the club may see him return to a reserve role. The Magic opted to take Duke power forward Paolo Banchero with the top pick in the 2022 draft, and will most likely start Franz Wagner, the eighth pick in 2021, at small forward. Carter was signed to a four-year, $50MM extension last summer. Though Bamba was also extension-eligible, Orlando ultimately opted to let him reach unrestricted free agency before bringing him back, so it seems likely that Carter will at least start the 2022/23 season at center. Injured power forward Jonathan Isaac, himself the sixth pick in the 2017 draft, is expected to return to the floor at some point during the 2022/23 season as well.
The 7′ big man is returning to a club that will boast a variety of solid players. After kicking off their rebuild in full with a flurry of moves at the 2021 trade deadline, Orlando also's future already looks bright. In addition to the club's aforementioned lottery talent in the frontcourt, the team also boasts talented young guard Cole Anthony, 2021 lottery selection Jalen Suggs, and 2017 No. 1 pick Markelle Fultz in the backcourt.