This is the seventh installment in our series breaking down the major trades of the 2022 offseason. As opposed to giving out grades, this series will explore why the teams were motivated to make the moves. Let's dive into a deal between the Hawks and Kings…
---
The day after free agency began, the Hawks agreed to send Kevin Huerter to the Kings in exchange for Justin Holiday, Maurice Harkless, and the Kings' 2024 first-round pick (top-14 protected). If the pick doesn't convey immediately, it would be top-12 protected in 2025 and top-10 protected in 2026. If it still hasn't changed hands by that point, the Hawks would instead receive two second-rounders.
The Kings' perspective:
After dealing Tyrese Haliburton to Indiana at the trade deadline for two-time All-Star Domantas Sabonis, the Kings signaled that they were building around a couple of dynamic play-makers (the other being De'Aaron Fox), each of whom has a clear hole in his offensive repertoire: three-point shooting. The two lefties have almost identical career percentages from behind the arc, with Fox at 32.0% and Sabonis at 31.9%.
Modern NBA offenses thrive with proper spacing, so surrounding the duo with shooters was paramount. Sacramento was just 25th in the league in three-point makes, 21st in three-point attempts, and 24th in three-point percentage last season (34.4%).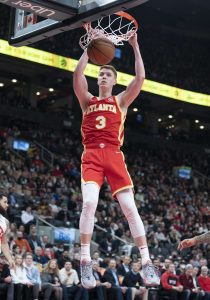 Enter Huerter, who averaged 12.1 PPG, 3.4 RPG and 2.7 APG in 74 games in 2021/22 (60 starts, 29.6 MPG). A look into his shooting numbers reveals that Huerter was an above-average marksman from all over the court, with a 57% true shooting percentage (58th percentile), 62% at the rim (57th percentile), 48% from mid-range (88%), 38.9% from three-point range (82nd percentile), and 80.8% from the line (64th percentile), per DunksAndThrees.com.
Huerter's '21/22 counting stats are quite similar to his career marks of 11.4 PPG, 3.5 RPG and 3.2 APG in 274 games (216 starts, 29.6 MPG), so consistent year-to-year output has been a strong selling point for the shooting guard. He has shot between 38.0% and 38.9% from deep in three of his four seasons, with a career mark of 37.9%. He is particularly lethal from the corners, with a career mark of 43.1%, including 44.9% last season.
The 6'7″ Huerter fits in nicely with the timelines of Fox (24) and Sabonis (26), as he turns 24 next month (Davion Mitchell turns 24 in September, Malik Monk is also 24, and first-rounder Keegan Murray is 21). He's also under contract for four more years, so he could become a fixture for the club for multiple seasons.
Although he is mostly known for his shooting prowess, Huerter is a solid secondary play-maker too, with a career assist-to-turnover ratio of 2.38-to-1. He's a very capable passer who displays above-average vision for a two guard. That should come in handy for the Kings, who were just 22nd in the league in assists last season.
Huerter has proven to a be a capable low-end starter in the NBA, and I mean that as a compliment. Being among the 150 or so best players in the best league in the world is no easy task, and Huerter is in that group. Even he winds up coming off the bench for the Kings, he has still shown he should be considered in that tier and he'd be one of the league's best reserves.
Huerter has two primary weaknesses. For one, he's sometimes too passive on offense and avoids contact, which is why he has attempted fewer than one free throw per game in his career in nearly 30 minutes per contest, a very poor rate. That, in turn, is why his true shooting percentage has only been above league average once in his career (last season), despite the fact that he's a strong shooter.
The second weakness is that he's a slightly below-average defender. He's just an okay rebounder, and he's skinny and can be pushed around even though he's tall for his position. Huerter isn't a liability by any means, like some other shooting specialists are, but he's not a positive either.
It's the less glamorous end of the court where I don't love the deal for the Kings, who ranked just 27th in the league in defensive rating last season. In fairness to them, they needed help in basically every area, and Huerter is certainly a better player than either Holiday or Harkless, but not on defense.
New head coach Mike Brown has built his career on being a strong defensive tactician, but he can only do so much with the personnel of the roster. That will continue to be an issue next season for Sacramento, as Fox and Sabonis aren't exactly defensive stoppers, nor is Monk, whom the team acquired in free agency to bolster its shooting.
Holiday struggled in his brief stint with the Kings, connecting on just 34.8% of his field goal attempts in 25 games (he was also part of the Sabonis trade), and Harkless was completely out of the rotation by the end of the season. Both players are significantly older than Huerter (Holiday is 33 and Harkless is 29), and neither was in Sacramento's long-term plans, so moving them was no big loss even though both have had long careers for good reasons.
The Hawks' Perspective:
Let's get this out of the way first: Atlanta didn't necessarily want to trade Huerter. Hawks fans will fondly remember his performance in Game 7 of the team's second-round playoff victory over the Sixers in 2021, when Huerter put up 27 points, seven rebounds and three assists on 10-of-18 shooting, helping Atlanta reach the Eastern Conference Finals for just the second time in the past 50 years.
Moving Huerter was both a short- and long-term financial decision. The four-year, $65MM rookie scale extension he signed just before '21/22 began kicks in next season, and trading for Dejounte Murray pushed the team into luxury tax territory.
The Hawks already have long-term salaries committed to Trae Young, John Collins and Clint Capela; Murray and Bogdan Bogdanovic are on the books for two more seasons; and De'Andre Hunter is eligible for a rookie scale extension this summer. The roster has become expensive, and after acquiring an All-Star guard in Murray, one of Huerter or Bogdanovic became expendable, through no fault of their own.
Bogdanovic is a better overall player than Huerter and more accustomed to coming off the bench, both positives for Atlanta. However, he's coming off knee surgery, is older (he turns 30 next month), and makes more money the next two seasons than Huerter, so the Hawks might not have gotten the type of trade package they'd want for him.
Holiday and Harkless, both of whom are on expiring contracts, will make a combined $10.86MM in '22/23, saving the Hawks $3.64MM after moving Huerter's $14.5MM salary. Keep in mind that by acquiring two players for one, the Hawks also don't have to fill a second roster spot — even a minimum-salary deal carries a $1,836,090 cap hit, so the actual savings in the deal are closer to $5.48MM when taking that into account.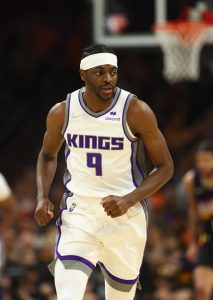 Of the two newly-acquired veterans, I expect Holiday to provide more on-court value and receive more playing time – he's a much better outside shooter than Harkless (36.5% career from three on much higher volume vs. 32.0%), and I'm sure the Hawks would like to give 2021 first-rounder Jalen Johnson more NBA playing time at the backup power forward spot next season.
Both Holiday and Harkless are well-traveled veterans and have defense-first reputations. Holiday, in particular, provided solid value during his run with the Pacers from 2019-21. His defense wasn't as sharp last season and his shooting can be inconsistent, but he's definitely a bounce-back candidate with all the open looks he'll get in his second stint in Atlanta.
Still, while the duo shouldn't be discounted, the main appeal for the Hawks in their trade with Sacramento was moving off Huerter's long-term salary and acquiring the 2024 first-round pick.
There's no guarantee that pick will convey in two years, of course – the Kings have missed the playoffs for an NBA-record 16 consecutive seasons, so the fact that it's lottery-protected might not bode well for Atlanta. However, Sacramento's roster does look a little better on paper entering next season, especially on offense, and the club will have one more year to continue making upgrades before the pick can convey.
If it does convey in 2024, both teams would be happy – the Hawks would pick up another first-rounder, recouping some draft equity after dealing three first-round picks (two unprotected) and a pick swap to San Antonio for Murray, while the Kings would have finally broken their postseason drought.
If it doesn't convey in 2024, there's still a decent chance the Hawks could get the pick in either 2025 (top-12 protected) or 2026 (top-10 protected). That might actually be the preferred scenario for them, as the first unprotected pick they traded to the Spurs is for 2025, and San Antonio has swap rights in 2026.
The West is stacked, so a postseason berth certainly isn't a given, but the Kings do have some interesting pieces, most of whom are young. There are realistic scenarios in which they get better with time and either make the play-in tournament or the playoffs outright. Murray could be the wild card, because if he's as NBA-ready as he seems, he could be a game-changer.
Overall, the Huerter trade was an understandable deal for both sides. The Kings got a solid young starter who is under contract for four more years and addresses some weaknesses of the roster, and they protected the first-rounder they dealt away so it hopefully doesn't come back to bite them.
The Hawks cleared long-term money and dodged the tax, got a buy-low candidate in Holiday, a veteran presence in Harkless, and recouped a bit of draft equity after giving up a substantial amount for Murray.