The Knicks and forward RJ Barrett are finalizing a four-year rookie scale contract extension that could be worth up to $120MM, agent Bill Duffy tells Adrian Wojnarowski of ESPN.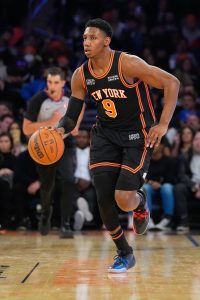 The exact base value of Barrett's new deal isn't yet known, but Ian Begley of SNY.tv reports (via Twitter) that there are bonuses tied to All-Star, All-NBA, and All-Defensive selections. In other words, it sounds like the former No. 3 overall pick would have to play at a very high level to earn the full $120MM.
A former star at Duke, Barrett has steadily increased his scoring average in his three NBA seasons with the Knicks, registering a career-high 20.0 PPG in 70 games (34.5 MPG) in 2021/22. He also contributed 5.8 RPG and 3.0 APG while shooting .408/.342/.714 last season. Those shooting marks were a step down from his career bests in '20/21 (.441/.401/.746).
According to Wojnarowski, the Barrett extension will complicate the Knicks' discussions with the Jazz about a potential Donovan Mitchell trade. Sources tell ESPN that those talks intensified over the weekend as the two teams made some progress, but there was still a gap between what each side was willing to do.
Knicks president of basketball operations Leon Rose set a Monday night deadline to either agree to a deal for Mitchell or commit to an extension for Barrett, per Wojnarowski, who notes that the "poison pill provision" will now almost certainly ensure that the former Blue Devil won't be part of a package for Mitchell.
As we outline in our glossary entry, a player who signs a rookie scale extension but remains on his rookie contract has different outgoing and incoming salary-matching figures, which is referred to as a "poison pill" — in Barrett's case, the gap between his outgoing and incoming figures will exceed $15MM, according to Wojnarowski. That would make it extremely challenging for both the Knicks and Jazz to send out and take back a legal amount of salary if Barrett is part of a package for Mitchell.
As Wojnarowski explains, Barrett was a "staple" in several of the proposals for Mitchell that the Jazz and Knicks discussed, with Utah highly valuing the 22-year-old. While New York had apparently been willing to include Barrett, the two teams were still at an impasse over the possible inclusion of Quentin Grimes and the number of unprotected first-round picks in the package, per ESPN.
It remains possible that the Knicks and Jazz will agree to a deal that doesn't include Barrett, but that would require the Knicks to give up "far more" draft assets than they've been willing to surrender thus far, sources tell Wojnarowski.
For now, the two teams are backing off those trade talks, but the Jazz aren't engaged in serious discussions with any other suitors about Mitchell, so neither they nor the Knicks have ruled out the possibility of resuming their talks before training camps begin in four weeks.
As Wojnarowski notes, Barrett's extension will end an ignominious streak for the Knicks, as he'll become the team's first first-round pick since Charlie Ward in 1999 to sign a multiyear contract extension following his rookie deal.
Barrett will also become the fifth player to finalize a rookie scale extension this offseason. While his deal won't be worth as much as the maximum-salary extensions signed by Ja Morant, Zion Williamson, and Darius Garland, it will exceed Keldon Johnson's four-year, $74MM contract.
Assuming Barrett's new extension doesn't include any options, it will keep him under team control through the 2026/27 season.