Superstar forward LeBron James is now officially eligible to sign a veteran contract extension with the Lakers.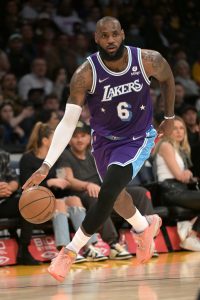 James last signed an extension with the Lakers on December 3, 2020, adding two years to the one remaining on his deal at the time. That contract will expire at the end of the 2022/23 season.
Typically, a player who signs an extension that keeps him under contract for three or four seasons (when accounting for both his current contract and his extension) becomes extension-eligible again two years after his signing date. However, James' eligibility window opens on August 4 instead of December 3 due to the unusual nature of the 2020 calendar, which was affected by COVID-19 — since free agency didn't open until November that year, the NBA considers August 4, 2022 this offseason's equivalent of December 3, 2020.
James is earning $44,474,988 in 2022/23, which exceeds the standard maximum of $43,279,250 for a player with 10-plus years of NBA experience. That means he's eligible to sign an extension that either gives him a 5% raise over this season's salary or is worth next season's maximum, whichever is higher. Currently, next season's max projects to be $46,550,000, whereas a 5% raise would put LeBron in line for a $46,698,737 starting salary.
Because he's already 37 years old, James' ability to sign a long-term extension is impacted by the Over-38 rule, which we explain in detail in our glossary entry. It prevents him from playing on contract longer than three years (including his current deal), which limits the length of a potential extension to two years. Assuming a $46,698,737 starting salary, LeBron's maximum two-year extension would be worth $97,133,373 — the second year (2024/25) could be a player option.
Although James is now extension-eligible, there's likely no urgency from his perspective to get a deal done right away. He has until June 30, 2023 to sign an extension, and would be able to sign a similar contract with the Lakers if he opts for free agency next year (in that scenario, he could even add a third year for 2025/26, since the '22/23 season would no longer count toward the three-year limit created by the Over-38 rule).
While the Lakers would certainly prefer to lock in LeBron to a new deal sooner rather than later, the four-time MVP can retain leverage and perhaps wield more influence on the team's roster moves by holding off on that commitment. Taking that route would also give James a chance to assess the team's roster additions as well as new head coach Darvin Ham during the 2022/23 season.
As Bobby Marks of ESPN (Insider link) writes, the Lakers' potential 2023 cap room won't be affected in any real way by whether or not James signs an extension, since his free agent cap hold would be essentially equivalent to his starting salary on a new deal. In either scenario, Los Angeles projects to have over $20MM in room, which would open up some options for the team but wouldn't be enough for another maximum-salary player.
Of course, if the Lakers lose James, they'd open up significantly more cap space next summer, but that's not what the team wants, and there has been no indication that James is looking to leave L.A. — one recent report indicated that LeBron is happy in Southern California and that his family has become "increasingly entrenched" there in recent years.
Still, rumors figure to swirl around the four-time champion and the Lakers as long as he remains unsigned beyond the 2022/23 season. There has been speculation, for instance, about the possibility of another reunion between James and the Cavaliers if he reaches free agency next summer.
According to Marks, if James does sign a two-year, $97MM+ extension with the Lakers, it would increase his career salary earnings to $532MM, which would be the most ever for an NBA player.