This is the fourth installment in our series examining players who are prime candidates for contract extensions. This series will explore the player's strengths and weaknesses, and will evaluate what a fair deal between the player and his team might look like. We're continuing today with a look at an oft-injured wing with tantalizing two-way potential.
---
Rundown:
The No. 4 overall pick of the 2019 draft after two college seasons at Virginia, De'Andre Hunter had a prominent role as a rookie for the Hawks, but his results were a little uneven, which is normal for first-year players. In 63 games (32.0 MPG) in 2019/20, he averaged 12.3 PPG and 4.5 RPG on .410/.355/.764 shooting (.521 true shooting percentage).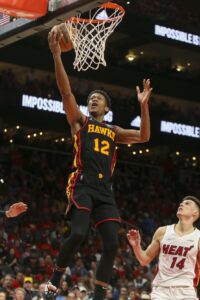 Hunter clearly worked hard on his game entering year two, as he got off to a great start, averaging 17.9 PPG and 5.6 RPG on a stellar .517/.375/.877 (.646 true) shooting line in 17 games (33.3 MPG). Unfortunately, things went downhill from there, as right knee discomfort and swelling ultimately led to arthroscopic surgery and multiple setbacks, causing Hunter to miss all but five games the rest of the regular season.
He did appear in all five games of Atlanta's first-round playoff victory over the Knicks, but didn't look like the same player. Hunter underwent surgery to repair a torn lateral meniscus in the same knee shortly thereafter.
Last season, Hunter had a slow start, not quite looking like himself after the meniscus tear. On November 8, he sustained a tendon injury on his right wrist, which required surgery and caused him to miss eight weeks of action (26 games).
Overall, he averaged 13.4 PPG and 3.3 RPG on .442/.379/.765 shooting (.547 true) in 53 games (29.8 MPG). The Hawks were very banged up at the end of the year, causing them to be overmatched in their first-round playoff loss to the Heat, but Hunter was the team's best performer – he averaged 21.2 PPG and 3.8 RPG on .557/.462/.800 shooting (.674 true).
Strengths:
During that 17-game stretch to start '20/21, Hunter legitimately looked like he could be a future All-Star, using his length and athleticism to aggressively drive to the hoop. Even though the Hawks lost the game, he had a memorable performance against the eventual champion Bucks, scoring a career-high 33 points on 13-of-21 shooting while fearlessly attacking Giannis Antetokounmpo.
Hunter has plus size for a forward at 6'8″ and 225 pounds with a 7'2″ wingspan, and he's versatile on both ends of the court. He's often tasked with guarding the opposing teams' best perimeter scorers, as Atlanta has lacked reliable wing defenders.
The 24-year-old was a high draft choice in large part due to his defensive upside, and while he shows flashes of being a plus defender, he lacks the consistency necessary to be a true defensive force. The talent is definitely there though, and that's something you can't teach.
Hunter gets to the free throw line at a good rate, can score in a variety of ways, and was an above-average three-point shooter in '21/22 (37.9%). Nearly all of his attempts from long distance came via catch-and-shoot, and he converted a career-best 40.5% from the corners.
Improvement Areas:
Consistency is the name of the game for Hunter. He has shown flashes of high-level two-way potential, but he hasn't been able to string it together consistently for any sustained period of time.
Losing time to injuries is out of his control, but it has certainly had an effect on his performance the past couple of years. In order to land a big pay day, he needs to prove that he can stay healthy.
Hunter is a below-average rebounder, and there's no reason he can't be better at his size. An average of 3.3 boards per game is unacceptably low for a forward. Even though he's a versatile scorer, he only shot 55% at the rim last season — 23rd percentile of all players, per DunksAndThrees.com.
He's also a poor play-maker, recording more turnovers (69) than assists (68) in '21/22. Hunter's 6% assist percentage was only in the 12th percentile. There's a lot of room for improvement there.
Conclusion:
Out of all the players eligible for rookie scale extensions in 2022, Hunter's market value is one of the most difficult to gauge due to his injury history and inconsistent play. He definitely has a lot to prove in the upcoming season, both for his own future and to the Hawks.
They're very different players, but maybe someone like Thunder wing Luguentz Dort works as a point of comparison for Hunter – Dort signed a five-year, $82.5MM deal with a fifth-year team option as a restricted free agent this offseason. Dort is a better defender, but Hunter has more offensive upside.
Since he isn't getting a maximum-salary deal, Atlanta can only offer Hunter four years in an extension. Dort got $64.78MM guaranteed over four years, with an additional $1MM in annual unlikely incentives.
Sources told Jake Fisher of Bleacher Report in July that the Hawks and Hunter's agents were approximately $20MM apart in their extension discussions. Making an educated guess, I would wager Atlanta was offering around $60MM – perhaps with additional incentives tied to games played – and Hunter was looking for around $80MM.
Hunter could easily outplay a $15MM-per-year contract, but he hasn't shown he's worth even that much yet. Analytics are really low on Hunter's game – I'm more bullish on his potential, assuming he can stay healthy.
I don't see any reason for the Hawks to budge in what they're willing to offer, and given his injury history, there are valid reasons for Hunter to consider signing a relatively team-friendly deal. If he turns down an extension and has a breakout fourth season, that's a good problem to have for Atlanta, because he'd be providing excess value on the final year of his rookie deal and would make it an easier decision to invest in him long term.