SEPTEMBER 8: The Jazz officially confirmed the trade of Mitchell in a press release. "Our entire organization wishes him every success in his future," team owner Ryan Smith said in the release. "Once a Jazzman, always a Jazzman."
---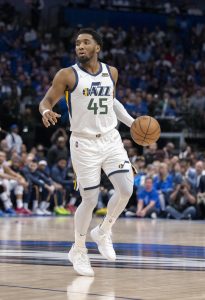 SEPTEMBER 3: The Mitchell trade is now official, tweets Chris Fedor of Cleveland.com.
"The acquisition of Donovan Mitchell presented us with an incredible opportunity to bring one of the NBA's most dynamic young All-Stars to Cleveland," general manager Koby Altman said in the press release announcing the move. "Already a special and proven talent at just 25 years old, Donovan brings a competitive mentality that organically fits with the core group of this team."
---
SEPTEMBER 1: The Cavaliers have agreed to a trade with the Jazz and will acquire star guard Donovan Mitchell, sources tell Adrian Wojnarowski of ESPN.
According to Wojnarowski (via Twitter), Cleveland is sending three unprotected first-round picks and two pick swaps to Utah as part of the deal. Lauri Markkanen, first-round pick Ochai Agbaji, and Collin Sexton are also headed to the Jazz in the blockbuster trade, reports Chris Haynes of Yahoo Sports (Twitter link).
Sexton is a restricted free agent, so he'll need to be signed-and-traded as part of the agreement. His new deal with the Jazz will be worth $72MM over four years and will be fully guaranteed, according to Shams Charania of The Athletic (Twitter links).
The three first-round picks going to Utah will be in 2025, 2027, and 2029, since Cleveland already owes its lottery-protected 2023 first-rounder to Indiana, as ESPN's Bobby Marks tweets. The Jazz will have the ability to swap first-rounders with the Cavs in 2026 and 2028, tweets Wojnarowski.
John Gambadoro of Arizona Sports 98.7 first identified the Cavaliers last week as a team with interest in Mitchell, and Ian Begley of SNY.tv subsequently reported that Cleveland had "touched base" with Utah about the three-time All-Star guard.
Still, today's news comes as a major surprise. Begley reported last Friday that the Cavs were removing themselves from the Mitchell negotiations, while Brian Windhorst of ESPN said Cleveland had made it clear to the Jazz in their earlier discussions that Darius Garland, Evan Mobley, and Jarrett Allen weren't on the table. That seemingly made it difficult for the Cavs to meet Utah's asking price.
However, the Cavs' package will include most of the other noteworthy assets at their disposal, including all their tradable first-round picks, this year's No. 14 overall selection (Agbaji), and Sexton, who is just one year removed from averaging 24.3 PPG and 4.4 APG on .475/.371/.815 shooting in 60 games (35.3 MPG).
As good as Sexton was in 2020/21, Mitchell represents an upgrade at the shooting guard position in Cleveland. In his last two seasons, he has averaged 26.1 points, 5.3 assists, and 4.3 rebounds per game in 120 appearances (33.6 MPG), with a shooting line of .444/.368/.849 shooting line. He'll earn a $1.68MM trade bonus as part of the deal, Marks notes (via Twitter).
With a core of Mitchell, Garland, Mobley, and Allen, the Cavs will be led by a pair of star duos — an offensively-minded pairing in the backcourt and a rim-protecting duo in the frontcourt.
All of those cornerstone players will be under contract for at least the next three years. Garland signed a new five-year extension this offseason, Mobley's rookie contract runs through 2025, Allen is in the second year of a five-year contract, and Mitchell is locked up through at least the 2024/25 season (he has a player option for '25/26).
With their three-for-one trade, the Cavs no longer have to worry about a logjam on their 15-man roster and should, in fact, have one open spot to fill. Once the deal is official, they'll have 12 players on fully guaranteed contracts, with Lamar Stevens and Dean Wade on non-guaranteed deals. They'll also create a $3.9MM trade exception in the swap and remain $2.47MM below the tax line, according to Marks (Twitter link).
The Knicks had long been viewed as the frontrunners for Mitchell, but they were never willing to offer more than two unprotected first-round picks (in addition to other protected first-rounders), per Jake Fischer of Bleacher Report (Twitter link). Unprotected first-round picks and swaps had been the trade chips that Danny Ainge and the Jazz coveted most, as was the case when they acquired a similar return in exchange for Rudy Gobert earlier this summer.
The Knicks and Jazz reportedly reached an impasse earlier this week when the Knicks set an informal Monday night deadline to either agree to a Mitchell trade or extend RJ Barrett, who was being discussed as a possible centerpiece in several permutations of a Mitchell deal. New York ultimately decided to sign Barrett to an extension, which complicated salary matching in a potential trade due to the poison pill provision and brought those trade talks to a temporary halt.
While there was an expectation that the Knicks and Jazz would reengage in the coming weeks, their stalemate opened the door for Cavs general manager Koby Altman to circle back to Utah general manager Justin Zanik, according to Wojnarowski, who says (via Twitter) the two teams "reassembled" a deal they'd been discussing in previous weeks.
The Jazz are now in full rebuilding mode, having traded their two All-Stars in the two most significant deals of the NBA offseason. Taking into account the trades for Mitchell, Gobert, and Royce O'Neale, Utah has acquired eight future first-rounders this summer, and all but one of those picks is unprotected (the eighth is top-five protected). The Jazz also acquired three pick swaps and a pair of players who were drafted in the first round this June (Agbaji and Walker Kessler).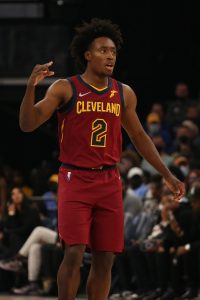 While the Jazz appear to be in teardown mode, their four-year investment in Sexton suggests he's a major part of their long-term plans. Fischer had reported back in July that Utah was exploring a possible sign-and-trade for the 23-year-old, so he has been on the club's radar for some time.
Sexton is coming off a lost season due to a torn meniscus, but should be fully healthy this fall and has shown in his first four NBA seasons that he's capable of becoming one of the league's highest-scoring guards. Utah also views Markkanen and Agbaji as keepers going forward, tweets Wojnarowski.
Once the trade is official, the Jazz will have 17 players on fully guaranteed contracts, so more roster moves – either cuts, trades, or both – will be coming before opening night. Veterans like Mike Conley, Bojan Bogdanovic, Malik Beasley, and Jordan Clarkson could still be on the trade block.
While it shouldn't have much of an impact on their roster moves, it's also worth noting that the Jazz will face a hard cap of $156.98MM for the rest of the 2022/23 league year once they formally sign-and-trade for Sexton. For now, they're $1.7MM below the tax line ($150.27MM), tweets Marks.