9:02pm: The trade is official, according to a Hawks press release. While also confirming the trade in their own press release, the Thunder provided more details regarding the picks involved.
The second-rounder headed to Oklahoma City is Atlanta's 2029 pick. The Thunder will also receive amendments on the conditions of a previously traded 2025 second-round pick from the Hawks. The amended 2025 second-round pick will now be top-40 protected. Previously that pick was top-55 protected.
---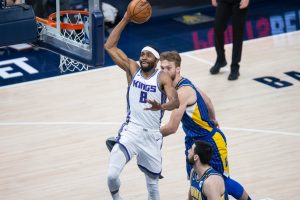 4:31pm: The Thunder are trading Vit Krejci to the Hawks in exchange for Maurice Harkless and a second-round pick, Shams Charania of The Athletic tweets.
After signing a multiyear contract ahead of the 2021/22 NBA season, Krejci appeared in 30 games in his first NBA season, averaging 6.2 PPG, 3.4 RPG and 1.9 APG. He posted shooting splits of .407/.327/.864.
An early 2020 second-round pick, Krejci underwent an arthroscopic knee procedure in April. His $1,563,518 salary for the coming season is only 50% guaranteed for now.
The 6'8" Krejci, who turned 22 in June, could work his way into a rotation spot with Atlanta. However, the deal is primarily a cost-cutting move for the Hawks. The team drops from $1.7MM over the luxury tax line to $1.3MM below it by swapping Harkless for Krejci, Yossi Gozlan of HoopsHype tweets.
The Hawks will also create a trade exception worth $4,564,980, the amount of Harkless' outgoing salary.
Harkless, 29, has been in the league since the 2012/13 season. He spent last season with the Kings, appearing in 47 games (24 starts) while averaging 4.6 PPG and 2.4 RPG. He has also played for Orlando, Portland, the Los Angeles Clippers, New York and Miami. Overall, Harkless has appeared in 621 NBA games and averaged 6.9 PPG and 3.5 RPG in 22.6 MPG.
Harkless, who has an expiring contract, was traded from Sacramento to Atlanta in the Kevin Huerter deal earlier this offseason. It's uncertain whether the Thunder plan to keep him or waive him.
Oklahoma City applied for a disabled player exception in late August worth $4.95MM in the wake of Chet Holmgren's season-ending injury. Harkless' contract will slot into that exception, which was granted last week, ESPN's Bobby Marks tweets. That allows the Thunder to complete the deal without matching salaries, since Krejci's $1.56MM cap charge isn't big enough to match Harkless' $4.56MM salary.