OCTOBER 17: As expected, the Pistons have waived Walker, the team confirmed today in a press release.
---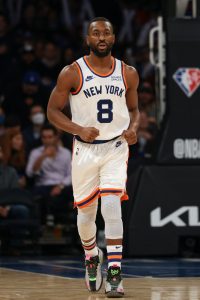 OCTOBER 14: The Pistons will likely waive veteran guard Kemba Walker in the coming days in order to get their roster down to the regular season limit of 15 players on standard contracts, according to Shams Charania and James L. Edwards III of The Athletic (Twitter link).
A four-time All-Star, Walker has seen his production dip in the last year or two as he has been slowed by knee issues. He averaged 11.6 PPG and 3.5 APG on .403/.367/.845 shooting in 37 games (25.6 MPG) last season for the Knicks, and was a liability on defense.
New York sent Walker to Detroit in a salary-dump trade in June, and reports immediately indicated that the 32-year-old and the Pistons would likely come to a buyout agreement. However, that buyout didn't end up coming to fruition.
There are likely a couple reasons why Walker has yet to accept the Pistons' buyout offer. For one, there has been no indication that he has a guaranteed contract offer on the table from another team, as he seemingly confirmed last week.
Additionally, since Detroit has more than 15 players on guaranteed contracts, the team was always going to have to trade or release one of those players by the regular season roster deadline of October 17 — since Walker is so obviously the odd man out, the Pistons had little leverage to encourage him to give back a portion of his $9.17MM salary unless they parted with another player on a guaranteed deal.
If and when Walker is waived, he'll become an unrestricted free agent two days later and would be able to sign with any team except the Knicks. Potential suitors will certainly be wary of Kemba's knee problems, but he insisted last week that he can still be a useful NBA player and still has "a few years left" in him.
"I've got something in the tank for sure," he said. "I feel great. I'm going to be honest. I'm going to have my opportunity. I'm not in any rush right now. I'm just grinding and trying to feel as good as I can. And right now, I feel great. I feel as good as I've felt in a long time. I'm just waiting for the opportunity."
Walker's former team in Charlotte is one that has been mentioned as a possible landing spot — the Hornets were already short on point guard depth even before LaMelo Ball sprained his ankle during the preseason.