2:24pm: The Blazers have officially signed Little to his extension, the team confirmed today in a press release.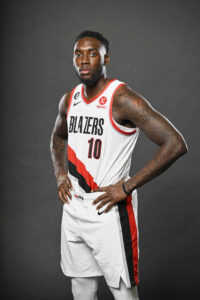 "Nassir is a talented player who has grown every year and has a very bright future," general manager Joe Cronin said in a statement. "We are very excited that he chose to extend with us, and we look forward to continuing to see him shine on and off the court."
---
10:31am: The Trail Blazers have agreed to sign forward Nassir Little to a four-year, $28MM rookie scale extension, sources tell ESPN's Adrian Wojnarowski (Twitter link). The deal will be fully guaranteed, according to Wojnarowski (Twitter link).
The 25th overall pick in the 2019 draft, Little didn't have much of a role in his first two seasons with the Blazers, averaging 4.1 PPG and 2.5 RPG on .450/.302/.719 shooting in 96 games (12.6 MPG).
However, he bumped those numbers to 9.8 PPG and 5.6 RPG on .460/.331/.734 shooting in 42 games (25.9 MPG) in 2021/22 and was playing especially well after entering the starting lineup in December.
Little's breakout season in Portland came to an early end when he underwent surgery on February 1 to repair a torn labrum in his left shoulder. In May, he underwent abdominal surgery to repair a core muscle injury.
Little has since recovered from both of those procedures and is ready to go for the start of the 2022/23 season. He lost the battle for the starting small forward job to Josh Hart, but figures to be one of the first players off the bench for the team to open the year.
Even though Little's new deal is reportedly fully guaranteed, it has the potential to be a steal for the Blazers. They'll be on the hook for just $7MM per season through 2026/27 in order to lock up a 22-year-old wing who continues to improve. Even if Little doesn't make huge strides in the coming years, that's a very affordable price for a reliable rotation player.
For his part, Little has earned just $6.63MM through his first three NBA seasons and will make $4.17MM in 2022/23. Locking in $28MM in guaranteed money will increase his career earnings exponentially and will give him some long-term security in case he takes a step back or suffers a major injury going forward. It's hard to fault him for accepting Portland's offer rather than rolling the dice in restricted free agency next summer.
Little is the 10th player to agree to a rookie scale extension this season, as our tracker shows. The deadline for those deals is at 5:00 pm CT on Monday.