Players who signed two-way contracts before the NBA's regular season got underway are eligible to be active for up to 50 of their teams' 82 games, while players who filled two-way slots after the season began are eligible for even fewer games — the two-way games limit is prorated, so a player who signed halfway through the regular season could be active for up to 25 contests.
On top of that, players on two-way contracts aren't eligible to play in the postseason, so once they reach their 50-game regular season limit, their seasons are essentially over at the NBA level.
However, there's a way to get around those restrictions. If a two-way player has outperformed his contract and his team doesn't want to lose his services once he's active for his 50th game, that team can simply promote him to its standard 15-man roster.
Teams have the ability to unilaterally convert a two-way contract into a standard, rest-of-season deal worth the players' minimum salary. If the player is open to it, he can also negotiate a multiyear contract with his team as part of his promotion to the 15-man roster.
Last season, 20 players were converted from two-way deals to standard contracts after the NBA regular season began. It hasn't happened at all since opening night this season, but it's just a matter of time until that changes.
Here are five prime candidates to receive promotions sooner or later:
---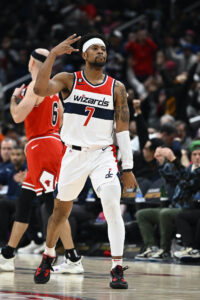 Multiple reporters, including Josh Robbins of The Athletic, Michael Scotto of HoopsHype, and Ava Wallace of The Washington Post, have indicated that the Wizards would like to promote Goodwin. The second-year guard has been a solid rotation piece in D.C., averaging 6.7 PPG, 3.5 RPG, and 2.7 APG with a .397 3PT%, but he's rapidly approaching his 50-game limit.
According to Robbins (Twitter link), since he has already been active for 44 games, Goodwin is actually being assigned to the G League's Capital City Go-Go on Saturday as the Wizards try to preserve his availability.
The Wizards don't currently have an available 15-man roster spot, but it sounds like opening one up will be a priority at the trade deadline. Unfortunately for Goodwin, Washington has 10 games between now and February 9, so he may have to be inactive for some of them as the team attempts to make room for him.
Unlike the Wizards, the Warriors do have a spot available on their 15-man roster for Lamb, but there's no rush to promote him until he has exhausted his two-way games limit. Golden State may also want to keep that roster spot open through the trade deadline to maximize the team's flexibility in trade talks and on the buyout market.
It should be just a matter of time until Lamb gets bumped to the main roster though. In 38 games for the defending champions, he has averaged 7.6 points, 3.3 rebounds, and 1.6 assists in 20.1 minutes per night, emerging as a trusted rotation player for head coach Steve Kerr, who has used Lamb more than a few reserves expected to have bigger roles.
Golden State's other two-way player, Ty Jerome, is putting up a sparkling .503/.407/.963 shooting line this season through 28 appearances and is making his own case for a promotion.
Robinson, a rookie big man out of Fresno State, has surpassed Dewayne Dedmon in the Heat's rotation in recent weeks as Bam Adebayo's primary backup at center. In his modest role, he has averaged 4.8 PPG and 4.4 RPG in 15.1 MPG.
Because he signed his two-way deal with Miami in December, Robinson is limited to 35 active games, rather than 50, so his limit is fast approaching. But the Heat are right up against the luxury tax and won't be able to sign a 15th man while staying below the tax line until March unless they shed a little salary in a trade deadline deal.
At this point, Robinson seems like the favorite to fill that 15th roster spot, but if the Heat's cap situation remains unchanged, he'll probably have to wait until later in the season.
Given the Clippers' lack of depth at center, Brown has often served as the de facto backup behind starter Ivica Zubac, appearing in 33 games so far.
The 23-year-old is only logging 7.9 minutes per night, but he's making the most of his limited action, averaging 4.3 PPG and 3.7 RPG. L.A. has a +5.1 net rating when he's on the court, the second-best mark on the team behind Kawhi Leonard.
Brown isn't likely to be part of the Clippers' playoff rotation, and may not see many minutes down the stretch at all if the club adds a veteran big man via trade or the buyout market. Still, there's an open spot on the 15-man roster — if that spot remains open and Brown continues to play the role he has so far this season, he's the logical candidate to fill it.
Washington didn't see much action in Phoenix during the first month of the season, but with injuries taking a toll on the Suns' roster, he has gotten the chance to play regular minutes in recent weeks.
While Washington's performance has been up and down, the highs have been impressive. In three separate games within the last month, he has made at least five 3-pointers and scored at least 21 points. Since December 20, he's knocking down 38.1% of his attempts from beyond the arc.
When the Suns are at full strength, it's difficult to imagine Washington being part of the regular rotation, but the team only has 14 players on full-season contracts, so the door is open for him to claim the 15th spot. It may come down to what Phoenix does at the trade deadline and whether the team envisions a relationship with Saben Lee beyond his two 10-day contracts.