5:23pm: The Lakers have officially announced the addition of Hachimura in a press statement.
---
12:15pm: The agreement has been finalized, Wojnarowski tweets. The Wizards will receive the Bulls' second-round pick this year, the Lakers' second-rounder in 2029 and the least favorable of the Wizards' and Lakers' second-rounders in 2028.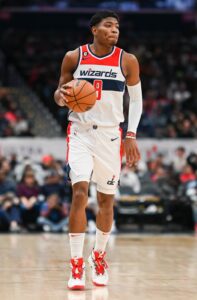 The Lakers had acquired the Wizards' 2028 second-round pick in a prior trade.
---
11:42am: The Lakers are in advanced talks to acquire Rui Hachimura from the Wizards, tweets ESPN's Adrian Wojnarowski. The price will be guard Kendrick Nunn and multiple second-round picks, according to Shams Charania of The Athletic (Twitter link).
Jake Fischer of Yahoo Sports reports that L.A. offered Nunn and two second-rounders to Washington on Friday, but the Wizards turned it down in hopes of getting a first-round pick for Hachimura, who was drafted ninth overall in 2019 (Twitter link). An agreement was reached Monday when the Lakers added another second-rounder to their offer.
The trade is expected to be finalized this afternoon, according to Wojnarowski (Twitter link). Specifics on the picks involved haven't been released, but Bobby Marks of ESPN points out (via Twitter) that L.A. has seven second-rounders available, including its own and Chicago's in this year's draft.
Hachimura never developed into a star in Washington, but the 24-year-old forward has been a solid rotation player throughout his entire time with the Wizards. In 30 games this season, all as a reserve, he's averaging 13.0 points and 4.3 rebounds while shooting 48.8% from the field and 33.7% from three-point range.
The Wizards didn't sign Hachimura to a rookie scale extension before the October deadline, so he'll be a free agent this summer. The Lakers can make him restricted, giving them the right to match any offer he receives, by issuing a qualifying offer likely to be worth about $7.74MM.
Basketball reporter Marc Stein hears that Washington was willing to part with Hachimura because of increased confidence that the team will be able to re-sign Kyle Kuzma in free agency after he turns down his player option (Twitter link).
After signing with the Lakers as a free agent in 2021, Nunn missed his entire first season due to a knee injury. He has appeared in 39 games this year, making two starts, and is averaging 6.7 PPG in 13.5 minutes per night. The 27-year-old will be an unrestricted free agent in July.