JANUARY 30: Turner's extension is now official, the Pacers announced in a press release.
---
JANUARY 28: The Pacers have reached a two-year extension agreement with Myles Turner, tweets ESPN's Adrian Wojnarowski.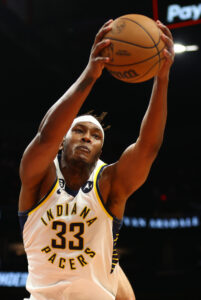 Turner's agent, Austin Brown of CAA Sports, tells Woj that the deal includes a $17.1MM renegotiation on the center's salary for the current season. Turner will have that amount added to the $18MM he's already receiving in 2022/23. It's the largest renegotiation deal in NBA history, according to Wojnarowski, and it's possible because the team had a significant amount of remaining cap space.
According to Shams Charania of The Athletic (Twitter link), Turner's yearly salaries will be about $35MM for the current season, approximately $21MM for 2023/24 and $20MM for the following season, giving the deal a total value of approximately $58MM in new money.
Because Turner's current contract contains $2MM in unlikely bonuses, per Bobby Marks of ESPN (Twitter link), $17.1MM was the maximum amount the Pacers were allowed to add to his $18MM salary this season (Turner's maximum salary is $37.1MM).
Marks explains that because Turner's deal came through a renegotiation, the Pacers were permitted to drop his salary by 40% in the first year of the extension, to approximately $21MM in 2023/24. Marks adds that the agreement doesn't change Turner's trade status; he's still eligible to be dealt before the February 9 deadline.
Turner appeared to be headed out of Indiana last summer, as one of the offseason's hottest rumors was a deal that would have sent him and Buddy Hield to the Lakers in exchange for Russell Westbrook and L.A.'s first-round picks in 2027 and 2029. The Lakers decided against parting with that much draft capital, and Turner is putting up the best numbers of his career with a surprising Pacers team.
He's averaging career-highs with 17.5 points and 7.9 rebounds per game while shooting 54.4% from the field and 39.1% from three-point range. He's also among the league's best shot blockers, swatting away 2.4 per game this season.
Assuming Indiana plans to keep Turner, he will be part of a young foundation for the team to build around, along with Tyrese Haliburton and rookie Bennedict Mathurin. Turner is only 26 and should be well positioned to land another large contract two years from now.