1:53pm: The Spurs have officially acquired Dedmon and the Heat's 2028 second-round pick from Miami in exchange for cash considerations, they announced in a press release.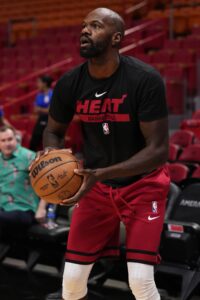 As Bobby Marks of ESPN tweets, the belief is that the Heat are getting $110K, which is the minimum amount a team can send or receive in a trade.
---
10:25am: The Heat and Spurs have agreed to a trade that will send center Dewayne Dedmon to San Antonio along with a future second-round pick, reports Shams Charania of The Athletic (Twitter link). The second-rounder will be Miami's 2028 pick, per Anthony Chiang of The Miami Herald (Twitter link).
Dedmon, 33, re-signed with the Heat last summer and began the season as the club's primary backup center behind Bam Adebayo. However, he lost his spot in the rotation to two-way rookie Orlando Robinson and was suspended for one game by Miami last month for a sideline outburst. The Heat had reportedly been shopping him in trade talks in recent weeks.
For the season, Dedmon has averaged 5.7 points and 3.6 rebounds per game in 30 appearances (11.7 MPG).
The Spurs remain well below the salary cap (and floor), giving them the ability to take on Dedmon's $4.7MM salary without sending out any players of their own. They also have an open spot on their 15-man roster, so no corresponding move will be necessary to create room for Dedmon.
From the Spurs' perspective, the deal essentially comes down to sacrificing some of their cap space for the rights to a future draft pick. Dedmon's $4.3MM salary for 2023/24 is non-guaranteed, so he's a good bet to be waived after the trade is official — San Antonio won't owe him any money beyond this season.
For Miami, the move generates additional roster and cap flexibility. The Heat have spent the season carrying just 14 players, with a team salary about $200K below the luxury tax line. Moving Dedmon will give the team significantly more breathing room below the tax threshold to make trades or signings.
Even if the Heat don't need that flexibility this week for a pre-deadline deal, they'll have the ability to sign free agents to fill both their 14th and 15th roster spots without having to worry about becoming a taxpayer. Robinson is a candidate to be promoted to the standard roster to claim one of those openings.
Teams are permitted to carry below 14 players on standard contracts for up to two weeks at a time, so the Heat would have 14 days to add a 14th man after the trade becomes official.
To make the trade legal, the Spurs will have to send something to Miami, but since this is essentially just a salary dump, San Antonio's outgoing piece is unlikely to be anything of real value — it could be a heavily protected draft pick, the rights to a draft-and-stash player who won't ever play in the NBA, or a small amount of cash. Tim Reynolds of The Associated Press (Twitter link) hears that it'll be the latter.
The Heat will generate a trade exception worth $4.7MM (Dedmon's salary) as a result of the deal.