9:01pm: The trade is now official, the Hawks announced in a press release. According to Atlanta's announcement, three of the five second-round picks the team is sending out in the deal are going to Portland, while the other two are going to Golden State. Here's the breakdown:
To the Blazers:
Either the Hawks', Nets', or Hornets' 2023 second-round pick (whichever is second-most favorable).
The Hawks' 2024 second-round pick (the Hawks previously traded this pick to Portland with top-55 protection; those protections are now removed).
The Hawks' 2025 second-round pick (protected 41-60).

Note: Portland will receive this pick if it's between 31-40 and Oklahoma City will receive it if it's between 41-60 (based on a prior trade).
To the Warriors:
The Hawks' 2026 second-round pick.
The Hawks' 2028 second-round pick.
The Blazers are still receiving five second-rounders in total, however. According to the Warriors' own press release announcing the deal, they've sent two other second-round picks to Portland. Those picks are the Grizzlies' 2026 second-rounder (top-42 protected) and the Warriors' own 2028 second-rounder.
---
1:55pm: The trade is being expanded further, according to Wojnarowski, who reports (via Twitter) that the Warriors are sending five second-round picks and Knox to the Trail Blazers in exchange for Gary Payton II.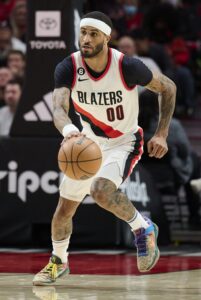 It's unclear if those are the same five second-rounders Golden State is getting from the Hawks, but the Warriors are essentially trading out Wiseman and getting back Payton, who was a key rotation player on last season's championship team.
Interestingly, the Warriors just faced the Blazers last night, getting an up-close look at the defensive stalwart, who will now rejoin Golden State. Payton signed a three-year, $26.1MM deal with Portland in the offseason, but has only appeared in 15 games in 2022/23 — he was slow to recover from abdominal surgery.
In addition to getting back a player they're very familiar with, the Warriors will also save a good chunk of money toward the luxury tax over the next two seasons, as Payton's cap hit is smaller than Wiseman's.
---
1:34pm: Kevin Knox is headed from Detroit to Golden State in the trade for salary-matching purposes, reports Wojnarowski (via Twitter). Knox isn't a lock to remain with the Warriors, Woj notes.
---
1:04pm: The Pistons will acquire James Wiseman from the Warriors in a three-team trade that will send Saddiq Bey to the Hawks, tweets ESPN's Adrian Wojnarowski. Golden State will get five second-round picks from Atlanta in the deal, Wojnarowski adds (Twitter link).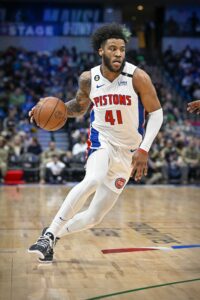 Detroit needs to send out another $2.5MM to match salaries, so at least one more player will be involved in the deal, tweets Yossi Gozlan of HoopsHype.
According to Jake Fischer of Yahoo Sports (Twitter link), the Warriors also had Wiseman discussions with the Trail Blazers and Spurs. The Pistons and Hawks discussed a separate deal involving John Collins, but sources tell Fischer that those talks have stalled.
Reports that the Pistons and Warriors were discussing a deal involving Wiseman broke earlier this afternoon. Detroit has been interested in the 21-year-old center since the 2020 draft, and Golden State was willing to move on from a player who never lived up to expectations after being the second overall pick.
He has appeared in just 21 games this season after sitting out all of 2021/22 with injuries and has spent a significant portion of the season in the G League. The Warriors picked up Wiseman's fourth-year option, so he will be under contract for $12.1MM next season. He will be eligible for an extension this summer, but it's extremely unlikely that the Pistons will want to make that type of commitment.
Bey has been a productive forward for Detroit since being selected 19th overall in 2019. Through 52 games (30 starts, 28.8 MPG) in '22/23, he's averaging 14.8 PPG, 4.7 RPG, 1.6 APG and 1.0 SPG on .404/.345/.861 shooting.
The 23-year-old is still on his rookie contract, which is very affordable considering he's been a regular contributor in each of his first three seasons. He's making $2.96MM this season and will make $4.56MM in '23/24. Like Wiseman, he will eligible for a rookie scale extension in the offseason.
Rory Maher contributed to this post.