The Suns will acquire Kevin Durant from the Nets in exchange for Mikal Bridges, Cameron Johnson, four first-round picks and more draft consideration, tweets Shams Charania of The Athletic.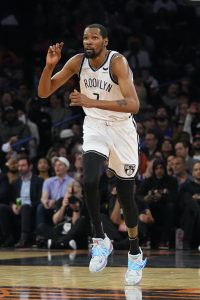 Jae Crowder, who has been sitting out since training camp in hopes of being traded, will also go to Brooklyn in the deal, Charania adds (Twitter link).
ESPN's Adrian Wojnarowski reports (via Twitter) that Nets forward T.J. Warren will be part of the trade as well, and the additional draft consideration is a first-round pick swap in 2028. According to Woj, Durant wanted to be dealt to Phoenix, and new Suns owner Mat Ishbia pushed to get the deal completed tonight.
Brooklyn will receive unprotected first-rounders in 2023, 2025, 2027 and 2029, a source tells Wojnarowski. The trade will help to replenish the Nets' draft assets after they sent multiple picks and pick swaps to Houston to acquire James Harden in 2021.
The Suns were on Durant's short list of preferred destinations when he issued a trade demand last summer. Although Phoenix was among the teams that submitted offers to Brooklyn, no progress was made at the time and Durant eventually rescinded the demand before the start of training camp.
At age 34, Durant remains among the league's best players, averaging 29.7 points, 6.7 rebounds and 5.3 assists per game while lifting the Nets into a tight race for the best record in the East before suffering a sprained MCL in his right knee last month. Durant is expected to be sidelined until after the All-Star break, but Brooklyn coach Jacque Vaughn said he received "a really good report" from doctors this week.
Durant still has three seasons remaining on the four-year extension he signed with the Nets in 2021, which led to speculation that the team didn't feel any immediate pressure to trade him. Brooklyn had reportedly been telling teams that have called about Durant that he wasn't being made available before the deadline.
A 13-time All-Star, Durant will earn $46.4MM, $49.9MM and $53.5MM over the next three seasons. He will team with Devin Booker, Chris Paul, Deandre Ayton, and the Suns' remaining assets in hopes of bringing a title to Phoenix. Ironically, there was a report earlier this week that the Suns offered Paul to Brooklyn in hopes of landing Kyrie Irving.
The Durant-Irving pairing that seemed to make the Nets an instant contender when they both signed as free agents in 2019 will officially end with trades just a few days apart. Injuries limited their time on the court together, even when Harden was added to form a Big Three, and they managed to win just one playoff series as teammates, although they had a narrow loss to the eventual champion Bucks in 2021.
The Nets no longer have elite talent on their roster, but Bridges and Johnson have both been valuable during their time in Phoenix, and they join a team that has managed to remain competitive even with Durant and Irving in and out of the lineup.
Bridges, 26, is a strong defender and long-distance shooter and is under contract for three more years at a total of about $70MM. Johnson, also 26, is an elite three-point shooter who is headed for free agency this summer. The Nets can make him restricted with a qualifying offer worth around $8MM.
The trade ends Crowder's long standoff with Phoenix, but Brooklyn may not be his final stop before the deadline. Wojnarowski tweets that the Nets plan to explore opportunities to move him to other teams.
The deal provides a homecoming for Warren, who spent his first five seasons with the Suns. He signed with Brooklyn in July and has managed to bounce back after missing most of the past two seasons with left foot issues.