FEBRUARY 9: The trade is now official, the Raptors have announced in a press release.
---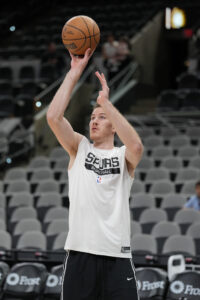 FEBRUARY 8: The Spurs have agreed to trade center Jakob Poeltl to the Raptors in exchange for Khem Birch and draft assets, tweets ESPN's Adrian Wojnarowski.
Sources tell Wojnarowski that San Antonio will receive the Raptors' protected first-rounder in 2024, along with two future second-round picks. According to Michael Scotto of HoopsHype, the 2024 first-rounder will be top-six protected through 2026, while the second-rounders will be Toronto's own in 2023 and 2025.
The ninth overall pick in the 2016 draft, Poeltl began his career in Toronto before being included in the blockbuster deal that sent Kawhi Leonard to the Raptors during the 2018 offseason.
He has spent the last four-and-a-half seasons in San Antonio and has steadily grown into a more well-rounded big man during that time, showing the ability to protect the rim on defense and to be a solid screen-setter and complementary scorer on offense.
Poeltl has played his best basketball since the start of the 2021/22 season, averaging 12.9 points, 9.2 rebounds, 2.9 assists, and 1.5 blocks per night in 113 games (27.8 MPG) during that stretch.
The center's strong play made him a popular trade candidate this season for the Spurs, who are in the midst of a rebuild and are very much lottery-bound — their record dropped to 14-41 on Wednesday as a loss in Toronto extended their current losing streak to 10 games.
San Antonio was said to be seeking a pair of first-round picks for Poeltl, but will have to settle for a single first-rounder and two seconds for the 27-year-old, who will be an unrestricted free agent this summer after earning $9.4MM this season and is considered likely to warrant a commitment in the range of $15-20MM per year.
According to Wojnarowski (via Twitter), the Raptors – who have been in the market for a reliable center since the departures of Marc Gasol and Serge Ibaka in 2020 – intend to sign Poeltl to a new contract this summer. They'll control his Bird rights, giving them the ability to offer him any amount up to the maximum without any cap restrictions.
It's a fascinating move for a Raptors team that has been widely considered a probable seller leading up to Thursday's trade deadline, with veterans like Fred VanVleet, Gary Trent Jr., and OG Anunoby frequently mentioned in trade rumors.
Previous reports had indicated that Toronto was generating some confusion among rival teams who were trying to figure out the club's path at the deadline, and there was a sense that Masai Ujiri and his front office wouldn't completely hit the reset button on the current roster.
More trades could come, since VanVleet and Trent can reach free agency this summer and the Raptors still have a glut of wings, but for now, they've at least addressed their hole at center and don't appear prepared to throw in the towel on this season.
As for the Spurs, they continue to stockpile future first-round picks after acquiring a few last offseason as part of the return for Dejounte Murray. The expectation is that they'll gather even more draft assets before Thursday's deadline arrives, per Wojnarowski (Twitter link). Josh Richardson and Doug McDermott are among the veteran trade candidates still on the roster.
It's unclear whether Birch will be part of the Spurs' plans going forward. The 30-year-old center has appeared in just 20 games this season, averaging career lows in points (2.2), rebounds (1.3), and minutes (8.1) per contest. He's earning approximately $6.7MM this season and has a guaranteed salary of nearly $7MM for 2023/24, so even if he's waived before the fall, he would cut into San Antonio's projected '23 cap room.
Following the deal, the Spurs remain $25.6MM below the cap and $15.7MM under the salary floor for this season, according to ESPN's Bobby Marks (Twitter links).
---
Luke Adams contributed to this story.