7:53pm: The trade is now official, according to a press release from the Thunder. Phoenix sent its own 2029 second-round pick and cash to Oklahoma City in the deal.
---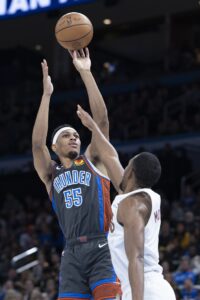 1:00pm: The Suns are trading forward/center Dario Saric and a second-round pick to the Thunder in exchange for forward/center Darius Bazley, reports Shams Charania of The Athletic (via Twitter).
As John Hollinger of The Athletic tweets, the deal was possible because of a large traded player exception the Thunder created when they dealt Derrick Favors to Houston before the 2022/23 season started (Favors was subsequently waived).
Both players are impending free agents — Saric will be unrestricted and makes $9.24MM in the final year of his contract, while Bazley is earning $4.26MM and will be a restricted free agent if Phoenix gives him a qualifying offer.
Considering the Suns went all-in in their blockbuster trade to acquire superstar forward Kevin Durant, I'm a little surprised that they're moving a second-round pick — and perhaps the better player — to save money in this deal. Saric missed all of last season while recovering from a torn ACL and he had a very slow start to '22/23, but he has played his best basketball as of late, averaging 8.8 PPG, 5.4 RPG and 2.3 APG on .485/.438/.800 shooting over the past 15 games (seven starts, 18.5 MPG).
It's definitely not certain that Saric is a better player than Bazley right now. Both players have been in-and-out of their teams' rotations, but Bazley (22) is six years younger than Saric (28) and is a superior athlete and defender, while the Crotian veteran has been a better all-around offensive player to this point in their careers.
Perhaps the Suns didn't want to bring back Saric in free agency, or they were worried about his fit with the new roster. Either way, they will save a significant amount of money toward the luxury tax and get a look at a versatile defensive player who might have some untapped upside in Bazley — his next contract should be relatively affordable, if they choose to re-sign him.
For the Thunder, they add a veteran in the frontcourt after agreeing to trade Mike Muscala to Boston, and add another second-round pick to their ever-growing draft cache. Stylistically, Saric fits well with what the Thunder like to do offensively, as he's a good screener, passer and play-maker, while Bazley is more limited in that regard.