FEBRUARY 24: The Wizards have officially signed Goodwin to a standard multiyear contract, promoting him to the 15-man roster, the team announced today in a press release.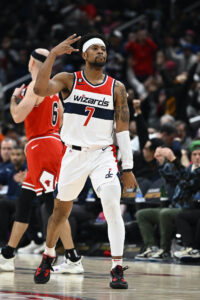 "Jordan has worked extremely hard during his time with us and that has paid off both for him and for our team with this opportunity," Wizards president of basketball operations Tommy Sheppard said in a statement. "He is a great example of our development program as well as the importance and impact of having the Go-Go as part of our organization."
According to Josh Robbins of The Athletic (Twitter link), Goodwin's new deal is a three-year contract that's partially guaranteed for 2023/24, with a team option for '24/25.
---
FEBRUARY 21: The Wizards intend to promote guard Jordan Goodwin from his two-way contract to a standard deal, reports Shams Charania of The Athletic (Twitter link).
The move had long been expected once Washington was able to open up a roster spot, since Goodwin has been a rotation player since November and had reached his limit of 50 active games. The Wizards reportedly completed a buyout agreement with Will Barton on Tuesday, creating the opening necessary to promote Goodwin.
Goodwin has averaged 6.3 points, 3.3 rebounds, and 2.5 assists in 18.1 minutes per game across 40 appearances for the Wizards this season, posting a solid shooting line of .453/.388/.750.
As Bobby Marks of ESPN noted earlier today (via Twitter), the Wizards are approximately $2.1MM below the luxury tax line, so they have the flexibility to sign Goodwin without surpassing that threshold. The club also has a portion of its mid-level exception available and could use it to give the 24-year-old a three- or four-year contract offer rather than just a one- or two-year pact.
We'll see what sort of deal Goodwin and the Wizards agree to, but a partially guaranteed three-year contract with a team option on the final year might make sense for both sides. That would give Goodwin a little security and would give the Wizards the option of making the former Saint Louis standout a restricted free agent in the summer of 2024.