For the rest of the regular season and postseason, Hoops Rumors is taking a closer look at players who will be free agents or could become free agents during the 2023 offseason. We consider whether their stock is rising or falling due to their performance and other factors. Today, we're focusing on a handful of Southwest players.
---
2022/23: $14.32MM
2023/24: UFA
Stock:

Neutral
2022/23 has been a roller coaster season for Wood, whom the Mavs acquired in the offseason for their 2022 first-round pick and expiring contracts. He started the season coming off the bench and was providing quality offensive production, averaging 17.2 PPG and 7.8 RPG on .550/.402/.688 shooting through 26 games (26.3 MPG).
A handful of days after Maxi Kleber tore his hamstring, Wood was inserted into the starting lineup, averaging 20.3 PPG, 9.4 RPG and 2.4 BPG on .516/.367/.814 shooting in 16 games (33.4 MPG). The team went 9-7 during that span, but unfortunately Wood sustained a fractured left thumb that sidelined him for eight games.
In 12 games since he returned from injury, Wood has seen his role cut back significantly, averaging 13.1 PPG and 5.2 RPG on .457/.298/.860 shooting in 18.9 minutes per contest. Defensive concerns could be the main culprit, though I haven't seen that publicly stated as of late.
The 27-year-old heard his name pop up in both extension and trade rumors leading up to the February 9 deadline, but neither came to fruition. He remains eligible for a four-year, $77MM extension until June 30, though that appears increasingly unlikely unless he plays a major role in a deep postseason run.
2022/23: $1.78MM
2023/24: $1.93MM team option
Stock:

Up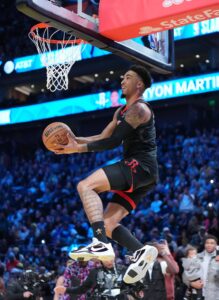 The No. 52 overall pick of the 2020 draft, Martin is averaging career highs with 12.0 PPG and 5.6 RPG while shooting a career-best 56.2% from the field through 65 games (26.9 MPG). The high flier is another player who saw his name mentioned in trade rumors early in the season, but obviously Houston decided to keep him.
Considering his team option for next season is only $1.93MM, it seems unlikely that the 22-year-old would enter free agency. So why is he on this list?
As our Luke Adams detailed last month, if the Rockets exercise their option for '23/24, Martin would become an unrestricted free agent in 2024. However, if they decline it, he would be a restricted free agent this summer, giving Houston more control. That's what happened last summer with Martin's teammate, Jae'Sean Tate.
Martin has appeared in every game this season for the Rockets, including 24 consecutive starts (32 total). If he starts nine of Houston's 17 remaining games, he would reach the starter criteria and increase his qualifying offer to $5,216,324.
2022/23: $11.4MM
2023/24: UFA
Stock:

Down
Brooks has always faced criticism for his poor shot selection. However, he has never been this inefficient — his 48.3% true shooting percentage is the second-worst mark in the NBA among 197 qualifying players, only ahead of Detroit's Killian Hayes (44.7%).
There isn't one particularly area to point to, because he's struggling from everywhere: 51.6% at the rim (ninth percentile), 38.3% from mid-range (26th percentile), and 31.9% from three-point range (24th percentile), per DunksAndThrees.com.
On the other hand, Brooks is an outstanding defensive player who is tasked with guarding the league's best perimeter scorers. The Grizzlies have been better with him on the court in each of the past three seasons.
For better or worse, a big part of the team's identity is tied to Brooks' brash attitude and confidence. At 27 years old, he's theoretically in the middle of his prime. He will get a raise on his current deal, but he hasn't helped himself on the offensive end of the court.
2022/23: $1.78MM
2023/24: RFA ($5.22MM qualifying offer)
Stock:

Up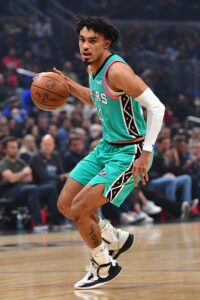 The No. 41 overall pick of the 2020 draft, Jones rarely saw the court in his first season, appearing in 37 games with an average of 7.3 MPG. He saw more action last season, but he was still limited to a reserve role, appearing in 69 games with averages of 6.0 PPG and 3.4 APG in 16.6 MPG.
After trading away Dejounte Murray in the offseason, San Antonio had a glaring hole at point guard. Jones has filled that void, averaging career highs in points (12.5), rebounds (3.6), assists (6.2), steals (1.3) and minutes (29.1) per game.
While he has struggled with scoring efficiency (51.2% TS, ninth-worst in the league among qualifying players), Jones does a very good job of taking care of the ball (3.67-to-1 assist-to-turnover ratio), he's only 23 years old, and he's on a minimum contract. He has certainly outplayed that deal.
Jones has already met the starter criteria, which increased the value of his qualifying offer to $5,216,324. There's an excellent chance the Spurs extend that offer to him and make him a restricted free agent.
2022/23: $6.8MM
2023/24: RFA ($7.74MM qualifying offer)
Stock:

Down
A former lottery pick (No. 8 overall in 2019), Hayes has yet to live up to his draft status. He has only appeared in 38 games this season with a career-low 13.6 minutes per night, a strong sign that the Pelicans don't view him as a long-term fit on the roster.
Hayes won't turn 23 until May, so he has time to possibly turn his career around. He is 6'11" and is a strong run-and-jump athlete. His shot isn't broken by any means – he's at 72.0% from the line for his career, a solid mark for a big man.
He just looks lost on the court way too often, frequently making careless, head-scratching mistakes at inopportune times, things that drive coaches crazy. The odds of New Orleans extending Hayes a $7,744,600 qualifying offer to make him a restricted free agent are very low, so he will likely hit unrestricted free agency this summer.