The G League Ignite are shutting down star prospect Scoot Henderson for the remainder of the NBAGL season, a league official tells Jonathan Givony of ESPN (Twitter link). The Ignite have five games left in the regular season, which concludes on March 25.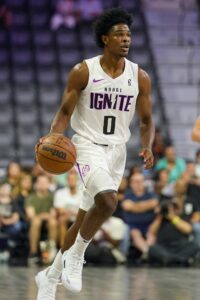 As Givony explains, the Ignite – who have an 11-16 record and rank 10th in the G League's Western Conference – aren't expected to reach the top six and make the playoffs. Additionally, the league feels Henderson has shown enough this season to prove his bona fides as one of the top picks in this year's draft.
Henderson averaged 21.2 PPG, 5.8 APG, 4.5 RPG, and 1.7 SPG on .485/.471/.706 shooting in six games (28.5 MPG) during the G League's Showcase Cup in the fall. Since the NBAGL's regular season began, he has put up 16.5 PPG, 6.8 APG, and 5.3 RPG in 19 appearances (30.7 MPG), though his shooting numbers (.429/.275/.764) dipped quite a bit.
For much of the 2022/23 season, Henderson has been viewed as a long shot to go No. 1 in the 2023 draft – due to Victor Wembanyama's presence at the top of this year's class – but a virtual lock to be the second player off the board. However, his grip on that No. 2 may have loosened in recent weeks due to his up-and-down performance during the G League's regular season.
John Hollinger of The Athletic noted on Monday that Henderson's inconsistent play has "started to raise some eyebrows" at the same time that possible No. 3 pick Brandon Miller has been thriving on the court in Alabama. ESPN's Jonathan Givony (Twitter video link) conveyed a similar sentiment in a recent TV appearance, suggesting that teams believe Miller is "firmly in the mix" at No. 2.