Bulls forward Derrick Jones doesn't have to officially make a decision on his player option for the 2023/24 season until June, but he tells K.C. Johnson of NBC Sports Chicago that he's "for sure" planning to exercise that option.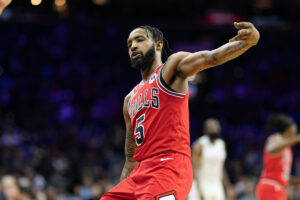 Jones signed a two-year, $6.56MM contract with Chicago last summer that includes an opt-out decision after year one. If he opts in, he'd earn a guaranteed $3.36MM salary in '23/24.
"Like I told coach (Billy Donovan) and everybody else, I'm locked in for two years. I didn't sign for two years for no reason. So I'm here for two years," Jones said. "I just gotta sit down with my agent and talk to him, figure things out. But I don't see why not. I got no other plans, yet."
Jones, 26, appeared in 64 games for the Bulls this past season, averaging 5.0 points and 2.4 rebounds and shooting .500/.338/.738 in 14.0 minutes per night. With the exception of his three-point percentage, those numbers were all down from the ones he posted during his first year in Chicago in 2021/22. However, he continues to enjoy his time with the organization.
"I just love being with these guys," Jones told Johnson. "I know my role isn't always what I want it to be. I've been through a few injuries that might've set me back a little bit. I feel like a healthy DJ for all 82 is very special. But I feel like I've played well when given minutes. I've done everything I can do with the role that I was given. Sometimes, I need to be a little more aggressive offensively. But defensively, I just do what I do."
Given his modest role and production in 2022/23, Jones might only be in line for a minimum-salary contract, which would be worth a projected $2,669,586, if he opts for free agency. Picking up the option would give him a little more financial security, whether or not he's in the Bulls' plans going forward (his expiring deal could make him a trade candidate). Still, he believes he's capable of showing more than he has so far in Chicago, particularly on the defensive end.
"I just love guarding," Jones said. "That's one thing I learned in my career: Defense wins championships. I want to be All-Defensive team one day. I feel like I could do it. I just need the right opportunity and proper amount of minutes."
Jones isn't the only Bull with a $3.36MM player option for 2023/24. As our list of free agents by team shows, veteran center Andre Drummond will have to make a decision on an identical option.