Dwane Casey will still be part of the Pistons' organization next season, but the team will be in the market for a new head coach this spring.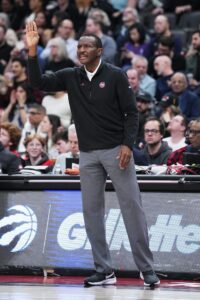 Following Detroit's regular season finale on Sunday, Casey told reporters – including Omari Sankofa II of The Detroit Free Press (Twitter link) – that he's transitioning from the Pistons' bench to a front office role.
"(Team owner) Tom (Gores) is giving me an opportunity to move into the front office," Casey said, per James L. Edwards III of The Athletic (Twitter link). "I'm excited to go to the next phase of my life. Time to spend more time with my family. This team is on the right track. They probably need to hear a new voice. This is my decision."
Casey joined the Pistons in 2018, fresh off earning Coach of the Year honors in Toronto. He was let go by the Raptors due to the club's disappointing postseason results. In Detroit, Casey led the team to a playoff berth in his first season, but was swept out of the first round and didn't make it back in any of his four subsequent seasons as the Pistons embarked on a rebuild.
In total, Casey led the Pistons to 121-263 (.315) record across five seasons. Speaking to reporters today, he said that – while he's not running away from his win-loss record – he hopes his legacy in Detroit is more about the growth of the team's current young core than the underwhelming results on the court (Twitter link via Edwards).
Bucks assistant Charles Lee and former Celtics head coach Ime Udoka are expected to be among the candidates to replace Casey on the sidelines in Detroit, sources tell Shams Charania of The Athletic (Twitter link). Adrian Wojnarowski of ESPN (Twitter link) confirms those names and adds a couple more, identifying Raptors assistant Adrian Griffin and Heat assistant Chris Quinn as possibilities.
Edwards and Vincent Goodwill of Yahoo Sports (Twitter link) suggest that former Pistons star Jerry Stackhouse, who is now the head coach at Vanderbilt, could also be an intriguing target, though it's unclear if that's just speculation or if he's actually on Detroit's wish list.
The Pistons will join the Rockets as the first two teams launching head coaching searches this spring.