Starting Grizzlies center Steven Adams will likely miss Memphis' entire postseason run, sources tell Adrian Wojnarowski of ESPN.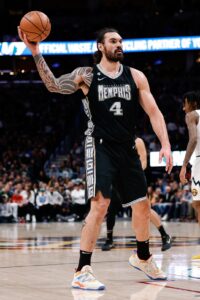 Adams has been sidelined for Memphis since suffering a PCL sprain in his right knee in late January. Last month, he received a stem cell injection to treat the ailment and was ruled out for another four weeks.
As Tim MacMahon of ESPN notes, the Grizzlies initially expected Adams to miss three-to-five weeks with the injury.
Memphis had high expectations for the 29-year-old coming into the season, and accordingly had signed him to a two-year, $25.2MM extension during training camp. The 6'11" Adams had been an integral part of the Grizzlies' defensive identity when healthy this season, averaging 8.6 PPG on 59.7% shooting from the field, 11.5 RPG, 2.3 APG, 1.1 BPG and 0.9 SPG.
The Grizzlies will miss not only his rebounding acumen, impossible screens and defense around the rim, but also his solid play-making from out of the high post.
Memphis, the No. 2 seed in the West at 51-30, will need to lean more heavily on Adams' backup, Xavier Tillman, who has performed ably in his stead. Across his 29 starts sans Adams, Tillman is averaging 9.7 PPG and 6.7 RPG.
Rookie two-way forward Kenneth Lofton Jr. is being elevated onto Memphis' standard roster to help address the loss. The Grizzlies are also without key reserve big man Brandon Clarke for the 2023 postseason due to a torn left Achilles tendon.