Nick Nurse's future in Toronto has been a subject of speculation as of late, with multiple reports this week suggesting there has been some league-wide chatter about Nurse's status. Asked on Friday about those rumors, the Raptors head coach could have poured cold water on them, but his response only added more fuel, writes Josh Lewenberg of TSN.ca.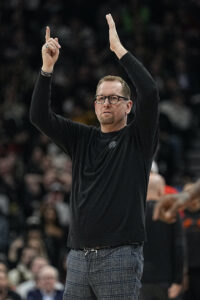 "I think when this season gets done, we'll evaluate everything," Nurse told reporters. "Even personally, I'm going to take a few weeks to see where I'm at, where my head's at, and just see how the relationship with the organization is and everything. It's been 10 years for me now, which is a pretty good run."
Nurse has been the head coach in Toronto since 2018 and was an assistant with the franchise under Dwane Casey for five years before that. It has been the Raptors' most successful decade since entering the NBA in 1995, and Nurse has had a major hand in that success, leading the team to its first ever championship in 2019 and a 224-161 (.582) record across his five seasons.
However, the last three years have been more up and down than the first two. Toronto was just 27-45 in 2020/21 — that appeared at the time to be an aberration due to the fact that the team was forced to play its home games in Tampa due to COVID-19. Following a 48-win showing in 2021/22 though, this season has also been an underwhelming one. The Raptors currently sit under .500 (38-39) with just five games left to play, resulting in speculation about Nurse's future.
Nurse's contract expires after the 2023/24 season, and sources with knowledge of the situation tell Lewenberg that the 55-year-old doesn't want to go into next season as a "lame-duck" coach. So, assuming he wants to continue coaching in Toronto, he'll be seeking an extension this spring.
That means the Raptors will essentially have to make a decision this year, one way or the other, on Nurse's future. Both directions – retaining Nurse or making a change – seem plausible at this time, Lewenberg writes, while Eric Koreen of The Athletic says a coaching change feels more likely than not.
Determining Nurse's future will be just one part of a big offseason for the Raptors, who also have Fred VanVleet, Jakob Poeltl, and Gary Trent Jr. facing potential free agency.
Ime Udoka has been linked to the Raptors as a possible target if they do move on from Nurse. As Koreen points out, Udoka interviewed for the team's head coaching job in 2018 and has been associated with Basketball Without Borders, which works closely with Masai Ujiri's Giants of Africa initiative. Of course, the off-court incident that ended Udoka's tenure in Boston would be a complicating factor for the Raptors or any other team interested in pursuing the former Celtics head coach.
Nurse, meanwhile, has been linked to Houston, where head coach Stephen Silas isn't a lock to return next season. Nurse coached the Rockets' G League affiliate, the Rio Grande Valley Vipers, from 2011-13 before joining the Raptors.