Nick Nurse won't be returning to the Raptors next season, according to Adrian Wojnarowski of ESPN, who reports (via Twitter) that the team is parting ways with its head coach.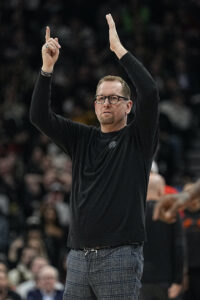 A Raptors assistant under Dwane Casey beginning in 2013, Nurse was promoted to be Casey's replacement in 2018 and has spent the last five seasons in that role. His NBA head coaching career got off to a fast start, as he led Toronto to its first-ever championship in 2019, then earned Coach of the Year honors in 2020.
Since 2020, however, Nurse's Raptors have been up and down, winning just 27 games while playing their home games in Tampa in 2020/21 and then finishing with a disappointing .500 regular season record in '22/23 before being eliminated in their first play-in game. Toronto won 48 games in '21/22, but was knocked out in the first round of the playoffs.
In total, Nurse had a 227-163 (.582) regular season record and a 25-16 (.610) playoff mark as the Raptors' head coach.
While Nurse was a strong tactician and was willing to experiment with unique ideas and strategies, some key relationships with players, coaches, and management became strained during the 2022/23 season, tweets Josh Lewenberg of TSN.ca. After rumors about his future began to swirl in March, Nurse directly addressed those reports and provided no assurances about his long-term commitment to Toronto, telling reporters that he'd evaluate his future after the season.
Nurse's contract had one more year left on it, but there was a belief that even if the Raptors wanted to bring him back, he wouldn't be comfortable returning without an extension. He and president of basketball operations Masai Ujiri met multiple times after the team's season ended last week to discuss possible paths forward, according to ESPN's Adrian Wojnarowski (Twitter link). Those conversations presumably made it clear to the team that a breakup was in its best interest.
According to Michael Grange of Sportsnet.ca (Twitter link), the lack of development for bench players, overly taxing workloads for starters, and a desire for more structure and accountability were factors the Raptors considered in dismissing Nurse.
Ujiri will hold a media session later on Friday, where he'll certainly be asked to discuss management's thinking in more detail. For now, he has issued a statement in a press release confirming the decision to seek a new head coach — the Raptors framed the move as Nurse having been "relieved of his duties."
"The decision to make a change like this is never arrived at easily or taken lightly, especially when it comes to a person who has been an integral part of this franchise's most historic accomplishments, and who has been a steady leader through some of our team's most challenging times," Ujiri said. "As we reflect on Nick's many successes, we thank him and his family, and wish them the best in future. This is an opportunity for us to reset, to refocus, to put into place the personnel and the players who will help us reach our goal of winning our next championship."
As previously reported, former Celtics coach Ime Udoka is expected to receive serious consideration from the Raptors as Nurse's replacement, tweets Wojnarowski. Udoka led Boston to the NBA Finals in his first year as head coach in 2021/22, but was suspended and then let go after reportedly having an extramarital affair with a member of the organization.
Hiring a new head coach will be just one important part of a busy offseason for Ujiri and the Raptors, who will likely have Jakob Poeltl, Fred VanVleet, and Gary Trent Jr. heading to unrestricted free agency.
Meanwhile, despite no longer coaching Canada's only NBA club, Nurse will continue to lead the country's national team through at least the 2024 Olympics, tweets Blake Murphy of Sportsnet.ca.
As for Nurse's next NBA job, Wojnarowski confirms (via Twitter) that he's expected to become a "prominent" candidate in the Rockets' head coaching search, which has also been previously reported.