This is the 11th entry in our series breaking down the significant trades of the 2022/23 season. As opposed to giving out grades, this series explores why the teams were motivated to make the moves. Let's dive into a four-team deal between the Clippers, Nuggets, Lakers and Magic.
---
Trade details
On February 9:
The Clippers acquired Bones Hyland.
The Nuggets acquired Thomas Bryant.
The Lakers acquired Mohamed Bamba, Davon Reed, the Clippers' 2024 second-round pick, and the Clippers' 2025 second-round pick.
The Magic acquired Patrick Beverley, the Nuggets' 2024 second-round pick, and cash ($2MM; from Lakers).
Note: Both the Nuggets and the Lakers created a couple of small traded player exceptions as part of this deal, which can be found right here.
The Clippers' perspective:
February's trade deadline was unusual in that it featured several transactions that were originally reported as being between two teams, but were eventually folded into four-team deals.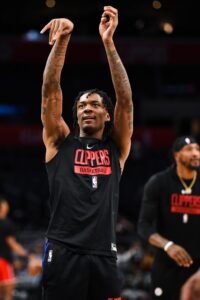 For the Clippers, this transaction was very straightforward. They dealt away their 2024 and 2025 second-round picks to Denver and used a traded player exception to acquire Hyland, a second-year guard. That was the end of it for them.
The Nuggets flipped those two second-rounders — plus Reed and their own '24 second — to the Lakers for Bryant. The Lakers then rerouted Denver's second and Beverley to Orlando for Bamba. Three separate trades were folded into one because it made sense to do so.
The Clippers finished the regular season ranked 17th in the league on offense, and Hyland is a talented microwave-type offensive player – he can get hot in a hurry. He provides some flair and unpredictability to an offense that can be a little bland and stagnant at times.
When the deal was made, I was skeptical that the second-year guard would actually receive meaningful minutes, and that turned out to be accurate, at least initially. He only appeared in five of his first 14 games with the Clippers, averaging 7.0 PPG and 3.6 RPG on .297/.278/.800 shooting in 14.2 MPG.
The primary reason for that is Hyland is a combo guard whose size (he's listed at 6'2″ and 169 pounds) makes it difficult to play him as anything but a point defensively. No matter where you play him on that end, he's prone to making mistakes both on and off the ball.
However, injuries to Norman Powell (left shoulder subluxation) and Paul George (knee sprain) created an opening for Hyland, and he finished the season as a regular contributor off the bench, averaging 12.9 PPG, 3.4 RPG and 4.3 APG on .440/.375/.700 shooting in nine games (21.6 MPG).
Hyland's immaturity (he left Denver's bench out of frustration in the fourth quarter of a Jan. 22 game against the Thunder), defensive lapses, and displeasure with his role were reportedly factors in the Nuggets looking to move the former first-round pick. I'm sure Hyland shoving Mason Plumlee in the regular season finale raised a few eyebrows within the Clippers organization, even if it was a relatively minor incident.
Still, despite his flaws, adding a 22-year-old with some real offensive talent on a cheap, controllable contract through at least 2024/25 for just a couple of second-round picks was a worthwhile gamble for the Clippers. Even if it doesn't work out in the long run, the cost was relatively low.
---
The Nuggets' perspective:
When I write these trade breakdown articles, I treat it as a thought exercise where I try to put myself in the position of the respective teams' front office. Of course I rely on reports and public statements as well, but NBA decision-makers aren't always forthcoming with the media, which is understandable.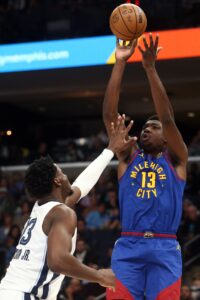 I try to be as objective as I can, which is challenging — I don't necessarily personally agree with what I'm writing at times, and it's hard to prevent my opinions from slipping through.
The reason I waited so long to write about this particular trade is I really didn't like it from Denver's perspective, and I still don't.
Moving on from Hyland for a couple of second-round picks was reasonable enough; I'm sure the Nuggets did their due diligence, and that's what his market value was. All the trade rumors coming out about how motivated they were to move him certainly did not help on that front.
My issue was that they rerouted those second-rounders and included one of their own to add a player on an expiring minimum-salary contract who doesn't fit well on the roster. It's not that Bryant is a bad player, he just doesn't make sense on the Nuggets.
Part of the reason Denver's bench has struggled so much all season long is because of the team's reliance on Nikola Jokic. What he does on the court is impossible to replicate, particularly offensively – he's the most efficient high-volume scorer in the league, unguardable one-on-one in the post, and one of the best passers in league history.
That reliance has proven to be a double-edged sword, as they lack an identity without him. His on/off numbers are staggering: plus-12.5 with him, and minus-10.4 without, a net difference of 22.9 points per 100 possessions. Every reserve has very poor on/off numbers.
Bryant has a lot of positive qualities. He hustles for loose balls, competes, sprints down the floor and is a skilled offensive player who can really shoot for a center, though his three-point percentages are somewhat misleading, as it's low volume.
LeBron James and Russell Westbrook were very good at setting him up quality looks, and Bryant was highly efficient at converting them. He averaged 12.1 PPG and 6.8 RPG on .654/.440/.741 shooting in 41 games with the Lakers (25 starts, 21.4 MPG).
However, he is much more of a finisher as opposed to someone who can create for himself and others, and the Nuggets don't really have anyone who can reliably feed him in the pick-and-roll. Head coach Michael Malone has been playing Jamal Murray with the second unit lately after abandoning the Reggie Jackson experiment, but they're both score-first point guards. Bruce Brown isn't a natural point either.
Bryant is a limited defensive player who – like Jokic – doesn't protect the rim, and he also doesn't possess Jokic's basketball IQ or quick hands to be disruptive. He tries, but Bryant doesn't move very well laterally and he's on the small side for a center.
Long story short, Bryant's skill set doesn't fit well with Denver because he doesn't have anyone who can reliably set him up on offense, and while he is a solid rebounder, he is an overall poor defensive player. It's just a bad mix.
At the end of March, Harrison Wind of DNVR Sports asked Malone (Twitter video link) why he thought Bryant hasn't been able to find a rhythm with the Nuggets.
"No idea. I can't answer it. Maybe ask him that," Malone replied.
Not exactly a ringing endorsement. It was also a little strange considering Bryant isn't the first backup center who has been productive on other teams and struggled in Denver over the past few seasons, joining JaVale McGee and Isaiah Hartenstein. That tells me the coaches deserve some blame for failing to utilize those players as well.
In 18 games with Denver, Bryant has averaged 4.6 PPG and 3.3 RPG on .485/.444/.722 shooting in just 11.4 MPG. He has been buried on the depth chart behind Zeke Nnaji and DeAndre Jordan since Malone made those comments.
I really liked some of the moves the Nuggets made over the past year, including trading for (and extending) Kentavious Caldwell-Pope, signing Brown, and drafting Christian Braun and Peyton Watson. All are players who filled roster needs.
As I said, I understand trading Hyland if he was causing problems in the locker room, and if that was the end of it, that would have been fine. But flipping those two second-rounders and including an additional one to acquire Bryant – who almost certainly won't be retained – was a poor decision, in my opinion.
---
The Magic's perspective:
It's hard to say that Bamba's tenure with the Magic was anything but a disappointment. He was selected No. 6 overall in the 2018 draft, ahead of players like Wendell Carter Jr., Mikal Bridges, Shai Gilgeous-Alexander, Michael Porter Jr., Kevin Huerter, Robert Williams and Jalen Brunson, among several others.
Bamba dealt with injuries and never seemed to gain former coach Steve Clifford's trust in his first three seasons, as he averaged just 15.3 minutes per game in 155 games from 2018-2001. He averaged 6.4 PPG, 5.2 RPG and 1.3 BPG on .471/.325/.646 shooting over that same span.
You could say being behind All-Star center Nikola Vucevic was partly to blame, but there were times when Bamba was outplayed by Khem Birch and Moritz Wagner as well. Draft status doesn't mean much if you aren't contributing at a high level.
After Orlando traded Vucevic and hired Jamahl Mosley to be the new head coach, Bamba emerged as the team's starting center in 2021/22, which was the fourth and final season of his rookie scale contract. He averaged 10.6 PPG, 8.1 RPG and 1.7 BPG on .480/.381/.781 shooting in 71 games (25.7 MPG), re-signing with the Magic on a two-year, $20.6MM deal, though only his '22/23 salary is guaranteed.
Bamba played alongside Carter in the frontcourt last season after Orlando acquired the former Duke big man as part of the Vucevic deal. However, the Magic landed the No. 1 overall pick last June and selected Paolo Banchero, a skilled power forward, which moved Carter up to center and put Bamba back on the bench.
The 24-year-old was mostly outplayed by Wagner again this season once the German big man returned from injury, burying Bamba further on the depth chart. The short-lived return of Jonathan Isaac, who later went down with season-ending adductor surgery, also likely played a factor in Orlando's willingness to move Bamba.
The Magic gave Bamba opportunities — things just didn't work out. He's on a pseudo-expiring contract (non-guaranteed $10.3MM salary for '23/24), essentially making him a rental player.
It turns out he didn't have a ton of league-wide value, which is why Orlando only got a second-round pick back. Taking on some additional salary in the form of Beverley didn't affect the Magic's cap situation, as they're well below the luxury tax (they also received $2MM in cash from the Lakers). Beverley was later bought out and signed with the Bulls.
---
The Lakers' perspective:
You can't really look at this trade in isolation for the Lakers, as they completely revamped the roster with a series of moves in January and February.
In: Rui Hachimura, D'Angelo Russell, Malik Beasley, Jarred Vanderbilt, Reed, Bamba and two second-round picks.
Out: Kendrick Nunn, Russell Westbrook, Damian Jones, Juan Toscano-Anderson, Bryant, Beverley, four second-round picks and a 2027 top-four protected first-rounder (to the Jazz).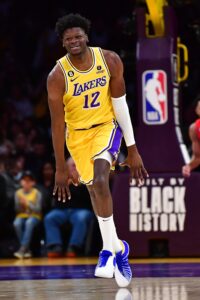 The Lakers have gone 18-8 over their last 26 games despite missing LeBron James for 13 of those contests, so clearly the moves were beneficial in the short term.
They also recently signed Tristan Thompson and Shaquille Harrison to fortify their depth ahead of the postseason. They had one open roster spot and waived Reed to accommodate the second addition (he only played 27 garbage-time minutes across eight games with Los Angeles).
Bryant reportedly requested a trade after Anthony Davis returned from his foot injury. He played well as a fill-in starter for the Lakers, but wanted a bigger opportunity. Obviously, things have not worked out with Denver.
As for Beverley, moving him saved money toward the tax and created more playing time for the new additions as well as Austin Reaves, who has excelled over the past few months. Beverley had a rough start with the Lakers and although he eventually turned things around, he's still a limited offensive player who is much older than Russell, Beasley, Reaves and Dennis Schröder.
Unfortunately, Bamba sustained a high left ankle sprain that sidelined him for a month not long after the Lakers acquired him, so it's hard to get much of a read on how the team views him. He does bring a different skill set than Wenyen Gabriel, who has been the primary backup center following Bryant's exit.
Bamba is listed at 7'0″ and 231 pounds with an enormous 7'10" wingspan, making him one of the longest recorded players in NBA history. He's also shot 38.3% on threes over the past two seasons – an above-average mark, particularly for a center.
Gabriel, meanwhile, is 6'9″ and 205 pounds. He makes up for his lack of size by relentlessly going after rebounds and being a solid, versatile defensive player. He has outperformed his minimum-salary contract, but he's still limited offensively and rough around the edges at times.
Bamba is more of a pick-and-pop threat, and obviously he has the size and length to be a deterrent in the paint – opponents shot 57.9% at the rim against Bamba, a solid mark.
That doesn't necessarily mean Bamba is an overall positive defensively, however, as he's prone to attempting blocks he has no chance of reaching, leaving the weak side open for offensive rebounds and easy put-backs. Still, his physical tools are enviable, and he won't turn 25 until May.
Bamba's $10.3MM salary for '23/24 will become guaranteed if the Lakers don't waive him by the end of June. If they do release him and want to bring him back, they'll have to re-sign him using something besides his Bird rights, which would be lost if he's cut (he would regain his Bird rights for 2024 and beyond if he did re-sign with the Lakers in that scenario).