After LeBron James left for Los Angles in the summer of 2018, the Cavaliers were the NBA's worst team over the following three seasons, going a combined 60-159 (.274 win percentage). In 2021/22, Cleveland got off to a great start, sitting at 35-21 — just one game back of the top seed in the East — on February 11.
Unfortunately, season-ending knee injuries to Collin Sexton and Ricky Rubio had limited the Cavs' backcourt depth, which was further tested when Darius Garland and Caris LeVert (whom the team acquired at last year's trade deadline) battled their own health problems. Lauri Markkanen and Jarrett Allen missed significant time as well, and the Cavs went just 9-17 to close the season, ultimately losing both of their play-in games.
By all accounts, it was still a wildly successful season, but the way it ended understandably left a sour taste in the Cavs' mouths. They likely would have made the playoffs had they been healthy, but injuries are part of the game.
Instead of returning the same group, the Cavs wanted to accelerate their timeline. It seemed like a foregone conclusion last summer that Donovan Mitchell would eventually end up with his native New York, but instead the Jazz shocked the NBA world by sending him to Cleveland in exchange for Markkanen, Sexton (via sign-and-trade), No. 14 overall pick Ochai Agbaji, the Cavaliers' unprotected first-round picks in 2025, 2027 and 2029, and the right to swap first-round picks with the Cavaliers in both 2026 and 2028.
Mitchell had an excellent debut season with the Cavs, averaging a career-high 28.3 points per game while scoring more efficiently than ever before, ultimately finishing sixth in MVP voting and earning an All-NBA (Second Team) spot for the first time in his career. Behind the league's top-ranked defense and an improved offense, the Cavs increased their win total by seven games, going 51-31 and entering the playoffs as the East's No. 4 seed.
However, Cleveland was thoroughly outplayed in its first-round series against New York, losing in five games. The Cavs actually still hold the best postseason defensive rating out of 16 playoff teams despite the series being lopsided, but a playoff-worst offense and defensive rebounding were major issues.
---
The Cavaliers' Offseason Plan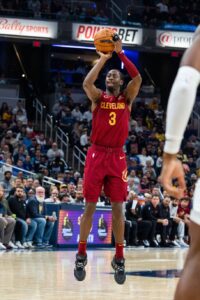 Cleveland doesn't control its 2023 first-round pick (No. 26 overall), which will be sent to Indiana as part of the trade for LeVert. In fact, the Cavs don't currently have any future tradable first-round picks due to the Mitchell deal, though they technically could give up swap rights in 2024.
As such, the players on the Cavs' roster are the primary assets the team controls. The team's four best players — Mitchell, Garland, Mobley and Allen — are unlikely to be on the move, as they were the core of the team's first 50-win season without James since '92/93.
It's noteworthy that Allen and Mobley struggled in the postseason, getting outplayed by the Knicks' frontcourt. It turned out to be a bad matchup for the Cavs.
As previously mentioned, one weakness the Cavs had throughout the season was defensive rebounding. They ranked 20th in the league with a 71.5% defensive rebounding percentage. That figure dropped to 60.6% in the playoffs — a figure 7.9% lower than Indiana's bottom mark during the regular season. The Knicks, meanwhile, held a 31.8% offensive rebounding percentage in the regular season, the second-best rate in the NBA — that number rose to 34.8% in the playoffs, the top mark among the 16 postseason teams.
Of course, not all of that is on Allen and Mobley. Rebounding is a team effort, and wing Josh Hart was a wrecking ball on the offensive glass for New York. It did expose Cleveland's lack of depth up front (and in general) as an issue though, with Allen and Mobley looking worn down from playing more minutes against a stronger, deeper and more physical Knicks frontline.
President of basketball operations Koby Altman said the Cavs have no intention of overreacting to the playoff loss by breaking up their frontcourt duo, which makes sense, as they were the anchors of the defense. But I do wonder about the long-term fit of Mobley and Allen on offense.
Neither Mobley nor Allen is a threat to shoot from behind the arc at this point, which hurts the team's spacing. The lane being constantly congested was a major issue in the playoffs, as Mitchell Robinson could just patrol the paint, which is what he prefers to do and is very good at.
That said, the biggest question mark facing the Cavs entering the 2023 offseason is the same as it was entering the 2022/23 season: Finding the right fit at small forward. Caris LeVert filled in at multiple positions throughout the season, including small forward, and he is the team's biggest free agent. But forward isn't his natural position, and the Cavs need more depth at other spots as well.
My expectation is the Cavs will look to either extend or re-sign LeVert to a contract perhaps in the range of $45MM over three years. He has said he "absolutely" wants to return and Altman called retaining LeVert a priority.
I also think they'll guarantee Cedi Osman's $6.7MM salary for '23/24 and pick up their $1.9MM team option on Lamar Stevens. That would give the Cavs 10 players under standard contracts for a total of about $140MM (assuming a $15MM cap hit for LeVert), pushing them over the projected $134MM salary cap.
As long as LeVert's first-year salary isn't too expensive, the Cavs could renounce their other cap holds and have the ability to sign a free agent (or two) using their mid-level exception and fill out the roster with minimum contracts without going into the luxury tax, which is projected to be $162MM. They could possibly use their $4.5MM bi-annual exception as well, but it would be a tight squeeze.
If the Cavs can't shore up their wing depth with the mid-level — there aren't a ton of great options at that price — I wonder if they might pivot and look to improve their depth at guard or center. Dennis Schröder and Gabe Vincent are unrestricted free agent point guards, while Naz Reid could be an interesting addition at backup center. Reid would bring some floor spacing and a pump-and-drive element that Mobley and Allen don't currently possess.
In addition to external help, the Cavs will look for internal development, including from wing Isaac Okoro, who will be eligible for a rookie scale extension. They'll also be hoping for a bounce-back season and better health from forward Dean Wade, who never looked right after injuring his shoulder in December and was limited to 44 regular season games.
Veteran guard Rubio was another player who didn't look like his old self in '22/23 as he returned from a torn ACL. He'll be several more months removed from that surgery by the time next season rolls around, so the Cavs will be hoping he'll be able to find the form he displayed in his first year with the team in '21/22.
---
Salary Cap Situation
Guaranteed Salary
Darius Garland ($33,500,000)

Note: Garland's salary will be 25% of the 2023/24 salary cap. This is a projection based on a $134MM cap.

Donovan Mitchell ($33,162,030)
Jarrett Allen ($20,000,000)
Isaac Okoro ($8,920,795)
Evan Mobley ($8,882,640)
Ricky Rubio ($6,146,342)

Dean Wade ($5,709,877)
Total: $116,321,684

Dead/Retained Salary
Player Options
Team Options
Lamar Stevens ($1,930,681): Bird rights

Note: Stevens' salary would remain non-guaranteed even if his option is exercised.

Total: $1,930,681
Non-Guaranteed Salary
Cedi Osman ($6,718,842)

Note: Osman's salary would become fully guaranteed if he's not waived on or before June 29.


Sam Merrill ($1,997,238)
Total: $8,716,080
Restricted Free Agents
Two-Way Free Agents
Draft Picks
No. 49 overall (no cap hold)
Extension-Eligible Players
Caris LeVert (veteran)
Donovan Mitchell (veteran)
Cedi Osman (veteran)
Lamar Stevens (veteran)
Isaac Okoro (rookie scale)
Note: These are players who are either already eligible for an extension or will become eligible before the 2023/24 season begins. LeVert is only eligible until June 30.

Unrestricted Free Agents / Other Cap Holds
Caris LeVert ($28,194,444 cap hold): Bird rights
Danny Green ($2,400,000 cap hold): Non-Bird rights
Robin Lopez ($1,989,698 cap hold): Non-Bird rights
Raul Neto ($1,989,698 cap hold): Non-Bird rights
Ed Davis ($1,989,698 cap hold): Early Bird rights
Rajon Rondo ($1,989,698 cap hold): Non-Bird rights
Brandon Goodwin ($1,774,999 cap hold): Non-Bird rights
Total: $40,328,235
Note: The cap holds for Davis, Rondo, and Goodwin remain on the Cavaliers' books from prior seasons because they haven't been renounced. They can't be used in a sign-and-trade deal.
Cap Exceptions Available
Mid-level exception: $12,220,600
Bi-annual exception: $4,448,000
Trade exception: $3,918,360

Note: Expires on September 4.
Note: The Cavaliers would lose access to the full mid-level exception and the bi-annual exception if their team salary surpasses the tax apron.