The NBA has officially announced its All-NBA teams for the 2022/23 season.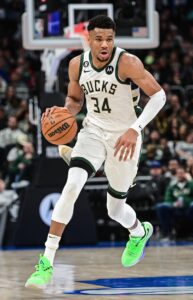 A total of 100 media members vote on the All-NBA awards. Players received five points for a First Team vote, three points for Second Team, and one point for Third Team, for a maximum total of 500 points. This year's three All-NBA teams are as follows:
First Team
Second Team
Third Team
A total of 37 players received at least one vote, per the NBA. The top vote-getters who wound up missing out on All-NBA spots were Lakers center Anthony Davis (65), Jazz forward Lauri Markkanen (49) and Grizzlies guard Ja Morant (44).
Morant had Rose Rule language in his rookie scale extension, meaning his five-year deal would have started at 30% of next season's cap had he been voted in; instead, he'll receive 25% of the cap, which is projected to be a difference of about $39MM across five seasons.
Other players receiving 20-plus points include Bucks guard Jrue Holiday (39), Suns forward Kevin Durant (35) and Knicks guard Jalen Brunson (23). The next three highest were Raptors forward Pascal Siakam (15), Clippers forward Kawhi Leonard (15) and Anthony Edwards of the Timberwolves (14), who is listed under forward but spent most of the season at shooting guard.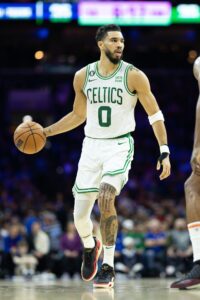 As we noted earlier today, both of the Celtics' top two players will now be eligible for Designated Veteran Extensions, also known as the super-max: Brown will be eligible to sign a five-year extension this offseason that starts at up to 35% of the 2024/25 salary cap, while Tatum will be eligible to sign a super-max extension in 2024 after earning All-NBA nods each of the past two seasons.
Like Brown, Siakam would have been eligible for a super-max extension this summer had he made an All-NBA team. He finished a distant ninth, so his maximum extension will now be worth a projected $192.2MM over four years, tweets Eric Koreen of The Athletic. As Josh Lewenberg of TSN.ca observes (via Twitter), Siakam could still qualify for a super-max deal if he makes an All-NBA spot next season as an impending free agent.
This will be the last season under the current Collective Bargaining Agreement. In the new CBA, All-NBA voting will be positionless and players will be required to play a minimum of 65 games to earn major regular season awards. Five of the players honored today — Antetokounmpo, Curry, Butler, Lillard and James — played fewer than 65 this season and would have been ineligible if the new requirements had been in effect, according to ESPN's Bobby Marks (Twitter link).
LeBron extended his own NBA record with his selection, earning a spot on an All-NBA team for the 19th straight season, per ESPN's Dave McMenamin (Twitter link). No other player has more than 15 total All-NBA awards (Kareem Abdul-Jabbar, Kobe Bryant and Tim Duncan are tied for second at 15 apiece).
Giannis was a unanimous First Team selection for the fifth straight season, per Eric Nehm of The Athletic (Twitter link), and the only unanimous choice in 2022/23. Antetokounmpo now has more First Team berths than any European-born player, tweets HoopsHype, and only trails Hakeem Olajuwon among international players (six). The Bucks superstar finished third in MVP voting behind Embiid and Jokic, but Jokic received some First Team votes over the Sixers' MVP winner, which is why Embiid wasn't a unanimous pick.
According to HoopsHype (Twitter link), this is the first season in league history that only one American player (Tatum) was voted to the First Team. Doncic (Slovenia) and Antetokounmpo (Greece) are European, Embiid was born in Cameroon, and Gilgeous-Alexander is Canadian.
Despite earning an All-NBA nod for the first time, Mitchell wasn't happy that he didn't make the First Team, sending out a tweet on the matter.