9:35am: The Warriors have made Dunleavy's promotion official, issuing a press release to announce the move.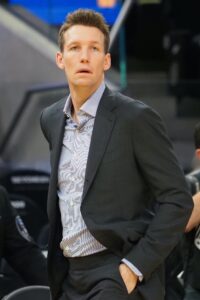 "We think Mike is the perfect fit to lead our basketball operations department," Joe Lacob said in a statement. "He has a wealth of basketball knowledge, stemming from his family upbringing, a 15-year NBA playing career and five seasons serving under Bob Myers in our front office. He's young and energetic, has established numerous relationships around the league and communicates well with players and coaches—all important traits in this business. Mike's ready for this challenge and responsibility."
---
8:12am: Warriors executive Mike Dunleavy Jr. has reached an agreement to become the team's new general manager, reports Adrian Wojnarowski of ESPN.
Dunleavy's previous title had been vice president of basketball operations, but he'll receive a promotion following Bob Myers' exit from Golden State. Myers had been the Warriors' longtime GM and president of basketball operations.
Dunleavy, who was close with Myers and has been one of the top lieutenants in the Warriors' front office in recent years, was repeatedly identified by reporters as the frontrunner to become the club's new head of basketball operations if the job opened up.
Following Myers' departure, team owner Joe Lacob told reporters that he wasn't yet ready to name a replacement, but his talks with Dunleavy's agents at Excel Sports Management concluded on Thursday with a new long-term deal for the former NBA forward, sources tell ESPN.
The son of former NBA player and coach Mike Dunleavy Sr., Dunleavy Jr. won a national championship at Duke in 2001 and was drafted third overall in 2002 by the Warriors. He played in nearly 1,000 regular season games from 2002-17 for six teams before transitioning into a non-playing role with his original NBA club.
Originally hired by Golden State as a scout in 2018, Dunleavy was promoted to assistant GM in 2019 and was further elevated to VP of basketball operations in 2021.
Although it's not clear whether he'll also receive a formal promotion, Joe Lacob's son Kirk Lacob is also expected to take on a larger decision-making role for the Warriors going forward, Wojnarowski writes. Kirk's current title is executive VP of basketball operations.