Matas Buzelis, an 18-year-old guard/forward, has officially signed with the G League Ignite, according to a press release. The move had long been expected, with Buzelis' plan first reported last August.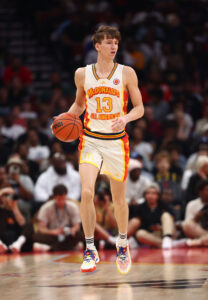 A consensus five-star recruit, Buzelis was named the MVP of this February's Basketball Without Borders Global Camp and competed in the McDonald's All-American Game in March.
He's currently considered the top player in the NBA's 2024 draft class by ESPN's Jonathan Givony, who had the Lithuanian-American prospect coming off the board first overall in a '24 mock draft earlier this year.
The Ignite has also secured a commitment from another potential 2024 lottery pick, according to Jeff Borzello and Paul Biancardi of ESPN, who report that 6'8″ forward Ron Holland will play for the G League club next season.
Holland initially committed to Texas, but decommitted in late April and was recently released from his letter of intent. He also reportedly considered Arkansas before deciding to forgo the college route and play in the NBAGL. Holland admitted to ESPN that the process "was not easy," but said he's confident that the Ignite will help him reach his potential and prepare him for the NBA.
"To have a long career, I need to prepare my body and improve my skills as I continue to try to win games," Holland said. "They have a program to help develop my body and my game. I know I have to work on being a more consistent shooter, along with my footwork and ball handling, so I can score in space on the perimeter against a set defender."
Holland was the No. 6 pick in ESPN's aforementioned 2024 mock draft.
Buzelis and Holland will join Thierry Darlan, Dink Pate, London Johnson, and Babacar Sane on the Ignite's 2023/24 roster. According to Givony (Twitter link), the team would be willing to add one more young NBA prospect to that group.