Former title-winning Raptors head coach Nick Nurse is set to interview with the Sixers this week, reports Keith Pompey of The Philadelphia Inquirer.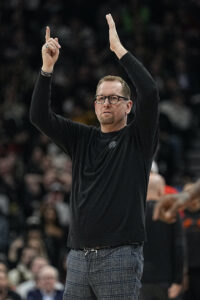 Philadelphia fired previous head coach Doc Rivers after the team's seven-game second-round playoff loss to the Celtics last week.
Nurse was previously identified as a candidate for the Sixers gig. In his first season as Toronto's head coach, he guided  the club to its first-ever NBA championship, led by Kawhi Leonard, Kyle Lowry, and Pascal Siakam on the floor.
After Leonard departed as a free agent that summer, the Raptors' subsequent season outcomes were up and down. The team never got out of the second round during the next four years.
All told, Nurse posted a 227-163 regular season record during his five seasons as the head man in Toronto. He was dismissed from the position after the Raptors failed to win a single play-in game this spring.
The Sixers, who have yet to advance beyond the second round of the playoffs with reigning MVP Joel Embiid on their roster, are clearly looking to take the next step in their postseason development. Experienced former head coaches Monty Williams, Mike D'Antoni, Mike Budenholzer and Frank Vogel , plus longtime assistant coach Sam Cassell, are also rumored to be on Philadelphia's shortlist.