1:51pm: The Heat are trying to acquire Beal without moving Herro, according to Anthony Chiang of The Miami Herald (Twitter link).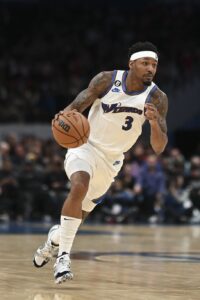 Barry Jackson of The Miami Herald (Twitter link) says the package discussed by Miami would be built around Lowry and draft assets, with Robinson or Oladipo also included for salary matching.
The Wizards appear to be trying to avoid taking back long-term money, tweets Ira Winderman of The South Florida Sun Sentinel. That suggests that a Suns offer would likely involve Paul rather than Ayton.
---
12:54pm: The Wizards are engaged in serious talks about a Bradley Beal trade with two separate suitors, according to Shams Charania of The Athletic (Twitter link), who reports that the Heat and Suns are in the mix for the star guard.
Miami has long been viewed as a potential landing spot for Beal if he's dealt, whereas Phoenix is more of a newcomer to the sweepstakes. Charania refers to the Heat and Suns as "finalists" for Beal, though it's unclear if the Wizards are fully committed to moving forward on a trade or whether other clubs will still have a chance to get involved.
As first reported on Wednesday, Beal and the Wizards have begun to talk to one another about the possibility of a trade, with the team's new front office – led by Michael Winger – considering the idea of resetting the roster. Any major changes in D.C. would almost certainly include moving Beal, who is owed nearly $208MM over the next four years.
Because Beal has a full no-trade clause, he has a significant amount of control over not only his eventual landing spot but the return the Wizards receive for him, since he could veto a deal if he thinks his new team is giving up too much. Beal's camp – including agent Mark Bartelstein – has reportedly been granted permission by the Wizards to speak to potential suitors.
Beal's current cap hit is $43.3MM and that number will increase to $46.7MM in 2023/24, so substantial outgoing salary will be required to match that figure and meet the NBA's trade rules.
A Heat trade for Beal would likely start with either Tyler Herro or Kyle Lowry. Herro will make $27MM next season in the first year of his four-year rookie scale extension, while Lowry will be on a $29.7MM expiring contract. Duncan Robinson ($18.2MM), Victor Oladipo ($9.5MM), and Caleb Martin ($6.8MM) are among the other possible trade candidates for the Heat, who have up to three first-round picks available, including this year's No. 18 selection.
As for the Suns, it's safe to assume Kevin Durant and Devin Booker wouldn't be included in an offer for Beal. That means a proposal would have to start with either Chris Paul or Deandre Ayton, depending on whether Washington would prioritize expiring salary (Paul) or a young building block who is under contract for multiple years (Ayton). Paul has a partially guaranteed $30.8MM salary for 2023/24 without any guaranteed money owed to him beyond next season, while Ayton will make $102MM over the next three years.
Landry Shamet ($10.3MM) and Cameron Payne ($6.5MM) are other movable Suns players for matching purposes, though Phoenix doesn't have much to offer in the way of future draft picks after sending four first-rounders to Brooklyn for Durant in February. The Suns would only be able to sweeten an offer with second-round picks or with a first-round swap in 2024 and/or 2026.
Both the Heat (with Jimmy Butler and Bam Adebayo) and the Suns entered the offseason expected to scour the trade market for impact players capable of complementing their star duos. The two teams project to be taxpayers going forward, so their flexibility to make major moves may be limited after the 2023/24 league year as more rules from the new Collective Bargaining Agreement take effect.
The Heat have also been linked to Damian Lillard, though there's no indication yet that he'll be available this summer. The Suns are said to have some interest in Malcolm Brogdon and John Collins, among others.