10:00pm: The extension is official, per NBA.com's transaction log.
---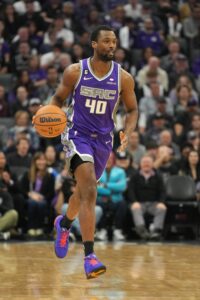 7:11pm: The Kings will keep veteran forward Harrison Barnes off the free agent market, having reached an agreement on a three-year, $54MM contract extension, agent Jeff Schwartz tells Adrian Wojnarowski of ESPN (Twitter link).
The deal will include a 10% trade kicker, reports Sam Amick of The Athletic (via Twitter).
Barnes has been a full-time starter for the Kings since they acquired him from Dallas at the 2019 trade deadline. The 31-year-old has appeared in 317 games since then, averaging 15.4 PPG, 5.3 RPG, and 2.3 APG with a .472/.387/.827 shooting line in 34.0 minutes per contest.
Barnes signed a four-year, $94MM contract as a free agent in 2016 and got $85MM for four years in 2019. Given his age and the fact that so few teams had cap room this summer, it makes sense that he'd have to settle for a slightly lesser annual salary.
However, it's also not a surprise that he'll receive well above the mid-level, since his performance hasn't noticeably dropped off in recent years. Barnes had a disappointing playoff showing vs. Golden State, but was as solid as ever during the 2022/23 regular season, with averages of 15.0 PPG and 4.5 RPG on .473/.374/.847 shooting. He was also one of just 10 NBA players not to miss a single game this year.
The Pacers were reportedly among the teams believed to have interest in Barnes, but he'll officially sign a new deal with Sacramento before reaching free agency, since he remained extension-eligible until June 30.
Barnes' new contract will cut into the Kings' projected cap room, but the team should still have approximately $18MM in space, according to Yossi Gozlan of HoopsHype (Twitter link).
As Gozlan observes, Sacramento could use that room to give Domantas Sabonis a raise via a contract renegotiation-and-extension while still having enough left to go after another rotation player in free agency. The club would also have the room exception – projected to get a bump to $7.7MM – once it uses up its cap room.
The Kings would also have the ability to operate as an over-the-cap team, which would allow them to access their full $12.4MM mid-level exception and $4.5MM bi-annual exception, but would remove the option of a Sabonis renegotiation.