JUNE 28: Reid's three-year extension with the Timberwolves is official, the team confirmed in a press release.
---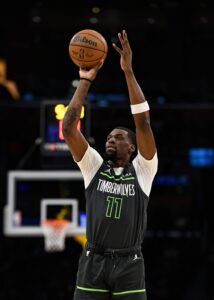 JUNE 25: Days before he was slated to hit unrestricted free agency, Timberwolves center Naz Reid has agreed to sign a three-year, $42MM contract extension to stay in Minnesota, his agents Jeff Schwartz and Sean Kennedy inform Adrian Wojnarowski of ESPN. Reid's new deal will include a player option for 2025/26.
As Woj notes, Reid enjoyed a well-timed breakout season in 2022/23 as the Timberwolves' third big man, averaging career bests of 11.5 PPG (on .537/.346/.677 shooting splits) and 4.9 RPG. He also chipped in 1.1 APG, 0.8 BPG, and 0.6 SPG across his 68 contests with the team.
The 23-year-old first joined Minnesota on a two-way contract after going undrafted out of LSU in 2019, and by his second season in 2020/21 had carved out a major rotation role with the team.
Reid's reported new contract represents a massive pay upgrade for the 6'9″ reserve. The $1.9MM minimum salary he earned in 2022/23 had been his prior pay peak.
Based on Reid's previous contract, the most Minnesota could offer in an extension prior to free agency was a starting salary of $12.95MM, which is 120% of this season's estimated average salary. It appears the Wolves offered that full amount, so his deal will be worth just shy of $14MM in year two, with an option worth just over $15MM in year three.
According to Matt Williams of ESPN (Twitter link), Reid averaged 0.78 points per minute following the 2023 All-Star break, more than any other NBA center aside from MVP Joel Embiid.
Before Minnesota offloaded significant assets to Utah in a trade for former All-Star big man Rudy Gobert last summer, Reid had looked like he might be in line to form the team's frontcourt of the future alongside maximum-salaried power forward/center Karl-Anthony Towns.
Reid had emerged as one of the premium big man prospects heading into free agency this summer, potentially capable of earning more money and a starting gig on another team given his upside, so it's fascinating to see him opting to stick with his current team and role.